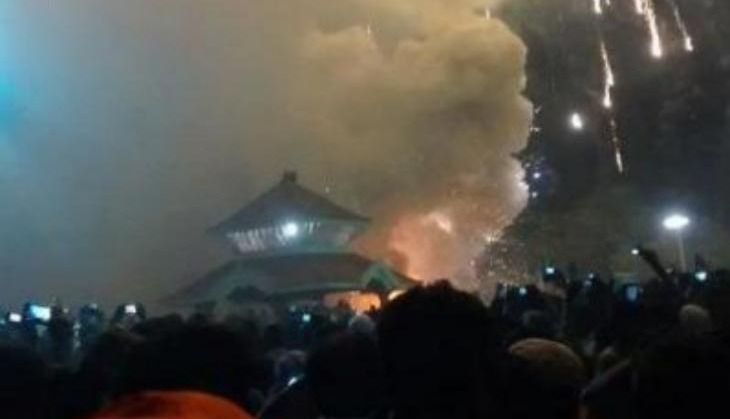 The fireworks display competition at Puttingal temple in Kollam, Kerala, which resulted in the death of 108 people, with 400 injured was originally banned.
The temple administration still went ahead with it, confident of support from politicians looking to win the elections, The Indian Express reports.
The police, which had allowed fireworks on the condition that it be non-'competitive' and that there be a written permission, was never shown one. "Just before the event, they said they had got the permission," Kollam City Police Commissioner P Prakash told IE.
"When the police demanded a written order, they refused to show it and started the show." Prakash further claims that they didn't stop the festivities fearing thousands turning 'violent' at the venue.
Safety not first
While the hundreds injured continue to battle for their lives in hospitals, the man-made disaster has not just turned election-flavoured political, but also troublingly communal.
As if the completely overlooked ban order was not enough, the officials instrumental in establishing it -- Additional District Magistrate A Shanavas and District Collector A Shainamol -- were, according to IE sources, 'bullied and threatened by local politicians and Hindu groups'. As Muslims, they were accused of harbouring communal motives.
ADM A Shanavas had banned the show based on evidence that it was not just a fireworks display, but a competition between two groups. This was in direct contradiction to the application from the Puttingal Dewaswam Managing Committee, which had stated that the fireworks were displayed by a single party.
"Once the order was issued, it was vetted by Collector Shainamol, so the pressure started mounting on her. A senior minister called her to demand a change in her stand and asked whether she really wanted to upset religious sentiments of a section to which she does not belong," a senior officer at Kollam District Collectorate told IE.
The minister allegedly in question, Labour Minister Shibu Baby John, admitted to having called her, but denied pressurising her. Shainamol too refused to confirm these allegations, saying, "I don't want to reveal anything about this issue."