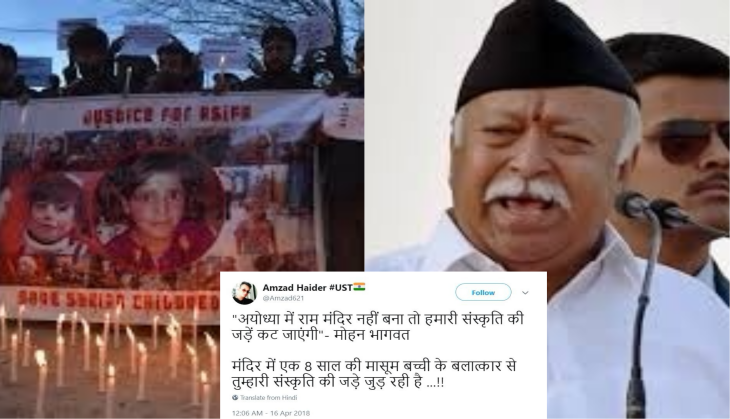 The Rashtriya Swayam Sevak (RSS) chief Mohan Bhagwat on Sunday commented on Ayodhya Ram Mandir that 'the root of our culture' will be cut if the Ram Mandir in Ayodhya is not 'rebuilt' The RSS chief comment came after the Kathua girl was brutally raped and murdered by 8 men and the civil society members staged country-wide protests across India against the sexual violence against women.
Mohan Bhagwat made a comment at Viraat Hindu Sammelan at Dahanu in adjoining Palghar district, came amidst the matter currently pending before the Supreme Court for hearing.
Bhagwat said, "If the Ram Mandir (in Ayodhya) is not rebuilt, the root of our culture will be cut. There is no doubt that the temple will be built at the spot where it was." Bhagwat then went on to add, "The Muslim community in India did not destroy the Ram Mandir. Indian nationals can't do such a thing, foreign forces destroyed temples in Mumbai to demoralise Indians."
"But today, we are independent. We have the right to rebuild whatever was destroyed because these were not just temples but the symbols of our identity," he said.
According to the charge-sheet prepared by the Jammu and Kashmir Crime Branch officials, Kathua's 8-year-old child was held captive inside a temple, where she was sedated and sexually assaulted for several days before being brutally murdered.
Well, the social media users sarcastically trolled the RSS chief and asked Bhagwat if raping an 8-year-old child inside a temple 'kept his cultural root intact.'
"अयोध्या में राम मंदिर नहीं बना तो हमारी संस्कृति की जड़ें कट जाएंगी"- मोहन भागवत

मंदिर में एक 8 साल की मासूम बच्ची के बलात्कार से तुम्हारी संस्कृति की जड़े जुड़ रही है ...!!

— Amzad Haider #UST🇮🇳 (@Amzad621) April 15, 2018
The social media flooded with the comments where users slammed the RSS chief hard in a buttery way. Here's how social media users reacted:
तो मंदिर में बलात्कार और हत्या करने वाले और उनके समर्थन में झंडा लेकर मार्च करने वाले क्या हमारी संस्कृति की जड बचा या बना रहे हैं? https://t.co/SBUD5HYgOq

— ASHUTOSH MISHRA (@ashu3page) April 16, 2018
"अयोध्या में राम मंदिर नहीं बना तो हमारी संस्कृति की जड़ें कट जाएंगी"- मोहन भागवत

मंदिर में एक 8 साल की मासूम बच्ची के बलात्कार से तुम्हारी संस्कृति की जड़े जुड़ रही है ...!!

— Amzad Haider #UST🇮🇳 (@Amzad621) April 15, 2018
Ek or mandir banvana chahte ho taki ab AYODHYA me koi ASIFA jesa case samne aae !

— Jaswinder kaur (@BallsOfFire5500) April 16, 2018
हमने #आसिफा को हर जगह खोजा , मंदिर को छोड़कर क्योकि हमें पता है कि मंदिर पवित्र जगह है :- आसिफा के पिता

— Rakesh Bharti (@RakeshB67859093) April 16, 2018
मोहन भागवत बोल रहे थे की मन्दिर रीबिल्ट होना हिंदुत्व के लिए बहुत ज़रूरी हैं .
भागवत जी मन्दिर में 8साल की बच्ची से रेप करने वालों को सज़ा दिलाने केलिए भी कुछ बोल दे...

— akash vallabh Yadav (@akash_vallabh) April 15, 2018
Also read: Blackbuck Poaching Case: Good news for Salman Khan! Now Race 3 actor can shoot abroad for Bharat and Kick 2