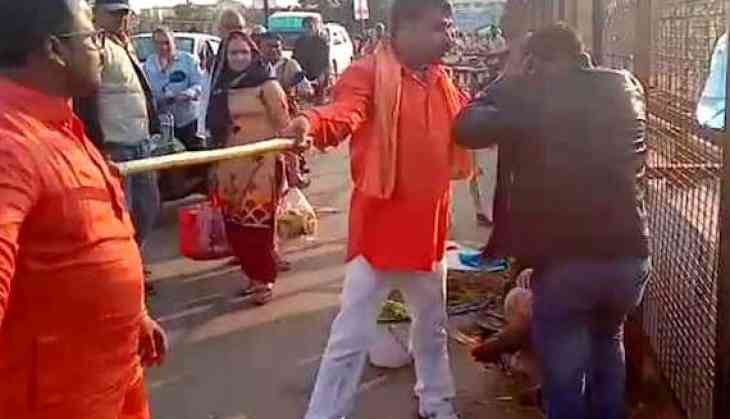 Two Kashmiri dry fruit vendors were allegedly beaten up saffron-clad men in Uttar Pradesh's Lucknow on Wednesday evening, amid a nationwide assault on Kashmiris following Pulwama attack. The four men belong to a fringe right-wing outfit who also filmed the assault. The video of the assault has gone viral on social media. All the four accused has been arrested by the UP police.
The Kashmiri men identified as Mohammed Afzal Naik and Abdul Salaam, who were beaten have been selling dry fruits in Lucknow for many years. They were, however, rescued by some of the locals, who advised the attackers not to "take law into your own hands" and to call in the police.
SHOCKING: Some goons in saffron kurtas throttle, assault a Kashmiri dry fruit seller in Lucknow. Passersby come to rescue of the Kashmiri. Case yet to be registered.

Hope @Uppolice @Igrangelucknow @lkopolice register an FIR and jab these goondas at the earliest. pic.twitter.com/zXjI3Anh2n

— Prashant Kumar (@scribe_prashant) March 6, 2019
"These men just descended on us. They started beating us and calling us terrorists. We have been coming for 20 years. Something like this has never happened with us before," one of the dry fruit sellers said while describing the traumatic moments to reporters.
"They said we are terrorists. You sell items here and throw stones there. They started thrashing us. They asked for our Aadhaar cards. We showed it to them," Mohammed Afzal Naik said.
Reportedly, the accused who thrashed the Kashmiris said that are doing it because they are from Kashmir. The men said, "Because they are Kashmiris. They are the ones pelting stones in Kashmir."
The main accused, Himanshu Awasthi claims to be the president of the Vishwa Hindu Dal. Another accused, Aniruddh Shyam, a member of Vishwa Hindu Dal. Since the February 14 Pulwama terror attack in which 40 CRPF personnel were killed, there have been numerous reports Kashmiris being assaulted across the country.