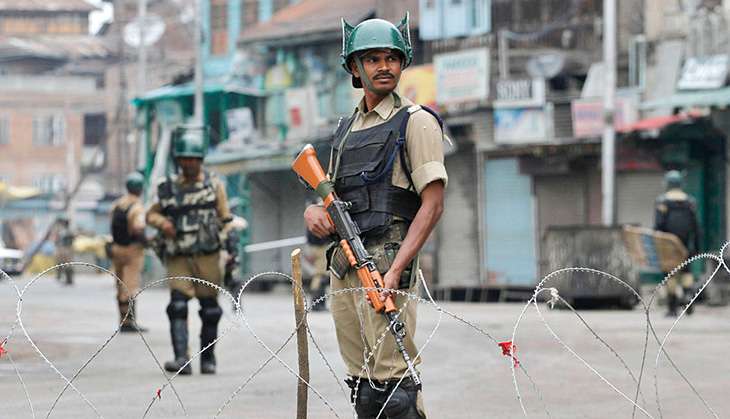 Kashmir has been witnessing widespread protests after top Hizbul Mujahideen commander Burhan Wani was killed in a joint operation by the army and the Kashmir police. At least 40 people have been killed and more than 2,000 have reportedly been injured in the clashes between protesters and security forces.
Civil rights activist Gautam Navlakha believes that the situation in Kashmir is that of a war where people are being killed in the name of nationalism. He claimed that the army in the Valley is not trying fight militancy but rather aiming to conquer people and suppress their thoughts.
"It is a war where people are being killed in the name of nationalism," he said during a public meeting held in Gandhi Peace Foundation, New Delhi, on 19 July.
"Forces have been trained to blind people," he added.
He also accused the government and the national media of spreading lies and acting like a mouthpiece of the state saying, "Jhootho ke baadshah sarkar me baithe hain aur media unki chamchi hai (Emperors of lies are sitting in the government and media is their servant)."
Other speakers at the meeting, namely independent filmmaker Sanjay Kak, Retd. Chief Justice of Delhi High Court Rajendra Sachar, journalists Anil Chamadia and Sukumar Muralidharan and Jamia Teachers' Solidarity Association member Manisha Sethi, also condemned the killing of civilians in Kashmir and the use of excessive force on protesters by security forces.
The national media was criticised for being biased in their reporting and publishing misleading reports. To support the criticism, Sukumar mentioned an Indian Express report. He said that the report had a misleading headline implying that four Amarnath yatris died due to the unrest in Kashmir, when in fact, they had died of cardiac arrests.
"Media and the State are on the same side of the field and have the same objectives," he added.
The other important point that both Sethi and Navlakha emphasised was that intellectuals and intelligentsia have failed to understand the Kashmir issue.
Bringing forward the response of parliamentarians, Sethi said, "Rajya Sabha passed a condolence resolution expressing sorrow for Nice, Bangladesh, France but rubber bullets and pellets were not discussed in the Upper House."
Rajya Sabha Chairman Hamid Ansari had said on Monday, "This House joins me in expressing our deep sorrow and sympathy and heartfelt condolences on the losses suffered by the friendly people of Turkey, Afghanistan, Iraq, Bangladesh, Saudi Arabia and France and reiterate India's stand of solidarity with the government and the people of these countries in their hour of grief."
The panel urged Indian youth to attain a better and deeper understanding of the Kashmir issue and not blindly believe in the "propoganda being spread through mainstream media and internet".