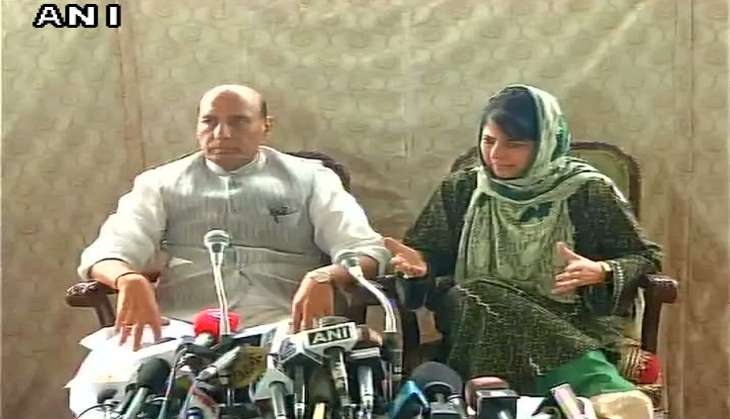 On 25 August, Home Minister Rajnath Singh met Jammu and Kashmir Chief Minister Mehbooba Mufti at her residence in Srinagar to discuss the prevailing security situation in Jammu and Kashmir.
After the meeting, Rajnath Singh and Mehbooba Mufti jointly addressed the media.
While speaking to the media, Singh asserted that he met over 300 people and assured Mehbooba Mufti that he was open for a dialogue. He also appealed to people living in Jammu and Kashmir to maintain peace in the state.
"I had meetings with more than 20 delegations here. Every Indian is deeply saddened with the ongoing situation in Kashmir," the home minister told the media.
He added, "Everyone wants peace in Kashmir. Nation's peace is linked with Kashmir. I have said it earlier too, the youth in Kashmir should have pens, books and computers in their hands, not stones and guns."
He added that we jointly have to identify elements who are apparently trying to mislead some of Kashmir's youth.
The Home Minister also went on to say that his visit is an effort by the central government to restore normalcy in the Valley, which has been reeling under curfew and restrictions since trouble started.
Adding that it was believed back in 2010 that pellet guns were a non-lethal form of weapons, the government has now realised that there should be an alternate for pellet guns which have injured hundreds of people living in Kashmir.
Meanwhile, Mehbooba Mufti claimed that 95% of people living in Kashmir want peace but 5% are stoking trouble in the Valley.
Singh, who is on a two-day visit to the state in the wake of violent protests triggered after the killing of Hizbul Mujahideen militant Burhan Wani on 8 July, took stock of the security situation.
This is Singh's second visit to the state in a month.