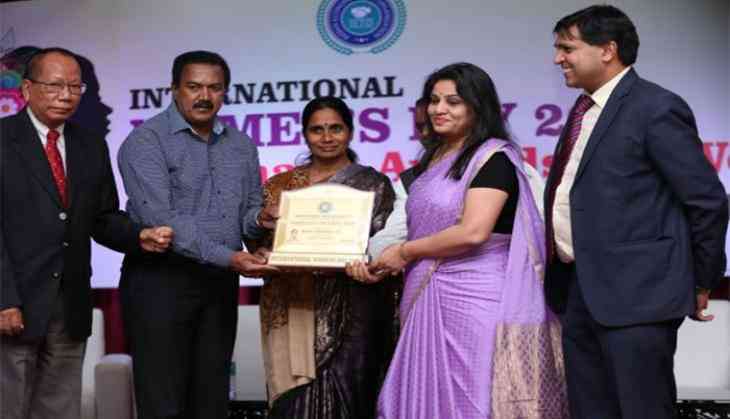 In a shocking move, A former top cop of Karnataka HT Sangliana, landed into huge trouble after making a controversial statement on Rapes and rape victim Nirbhaya's mother Asha Devi, that she had a 'great physique' and he could 'just imagine how beautiful her daughter would have been.'
According to a Bangalore Mirror report, former DGP of Karnataka Police HT Sangliana made the statements at an award function meant to honour women, including Asha Devi, and their work.
This doesn't end here, the ex-DGP said something really shameful over rape victims.
Ex-DGP Sangliana reportedly also said, "If you are overpowered, you should surrender, and follow up the case later. That way we can be safe, save a life, prevent being killed."
Met Nirbhaya's mother today. She spoke how the society stigmatises rape victims rather than stigmatising the culprits. It's for citizens to play active role in checking crimes against women. Ex MP, retd IPS Sangliana was present I received "Nirbhaya Award" on the occasion. pic.twitter.com/ifjeaBpnf1

— D Roopa IPS (@D_Roopa_IPS) March 9, 2018
At an event, honouring women in various fields, Nirbhaya's mother, Asha Devi, was a chief guest, where the former DGP was one of the award presenters. People at the function said that Sangliana's statements were shocking and disgraceful.
Activist Anita Cheria was so disappointed by the top cop's statement that she is wanted to walk out the right way. However, she was to receive the award at the hands of Nirbhaya's mother Asha Devi, she decided to stay back out of respect for her.
In her acceptance speech, Anita Cheria gave a scathing critique of the former cop's remarks.
"When top government officials, from the police, seemingly well-meaning, think it appropriate to comment, appreciating a woman's good physique, we, as a society, have a long way to go to change mindsets and bring any measurable lasting change in favour of women."
Sangliana did not stay in the event for long, but only enough to present one award to cop D Roopa.
While addressing the audience, Asha Devi said, "Every day a Nirbhaya is gang-raped and killed in the city. Whenever I hear about any such incident, I feel that it is happening with my daughter." the parents want that a speedy justice delivery system in place.
But they doubt that will happen"Are these laws capable enough to stop Nirbhaya-like incidents from happening?", questions Nirbhaya's father Badrinath Singh.
Recently, the Delhi Police has opposed a plea filed by one of the four death-row convicts in the Nirbhaya gang-rape case and murder case for review of its verdict upholding capital punishment awarded to him in Supreme Court.
Also read: Principal rapes class 10th student after promising her to clear exams; Makes dummy sit to write her exam