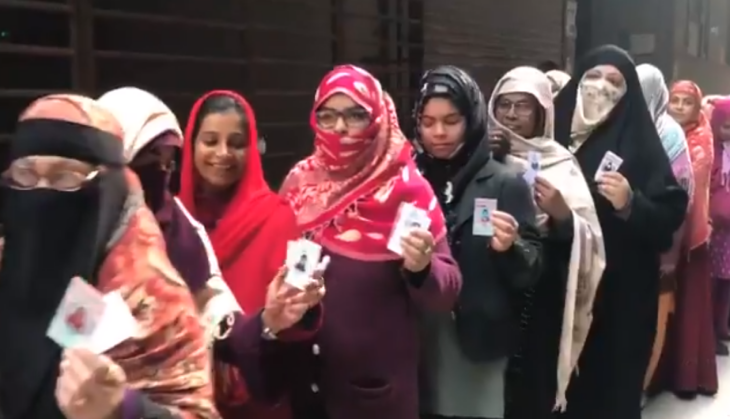 The Karnataka BJP on Saturday triggered criticism after it took a dig at the Muslim women, who seem to be standing in a queue outside a polling station in Delhi to cast their votes in the ongoing assembly election.
The Karnataka BJP today posted a video on Twitter, which seems to be of one of the polling stations in Delhi and captioned it: "Kaagaz Nahi Dikayenge Hum" ! ! ! Keep the documents safe, you will need to show them again during NPR exercise."
Many internet users have been found criticizing the BJP for the video on Twitter.
"Kaagaz Nahi Dikayenge Hum" ! ! !

Keep the documents safe, you will need to show them again during #NPR exercise.#DelhiPolls2020 pic.twitter.com/bEojjeKlwI

— BJP Karnataka (@BJP4Karnataka) February 8, 2020
On the other hand, senior RSS functionary Ram Lal on Saturday said those shouting 'kagaz nahin dikhayenge' would be defeated in the Delhi assembly election as he appealed to people to show documents while voting.
Talking to reporters after casting his vote at a polling booth in Nirman Bhawan, Lal asked voters to keep in mind who can make Delhi the best capital city in the world.
Hundreds of people, protesting against the Citizenship Amendment Act (CAA) and the National Register of Citizens (NRC) in many areas across the country, often raise the slogan of "kagaz nahi dikhayenge" (we will not show show documents.
"My message to the voters is 'aaj apna kagaz jaroor lekar jayen. Kagaz jaroor dikhayen' (Today, take your document along with you and show your document)," Lal said.
In Delhi, there will be a government which can coordinate with the Centre, Lal, who was in the BJP till last year, said.
"Today, mentality of not showing documents will be defeated and (those ready to) show documents will win," he said.
Senior BJP leader Shyam Jaju said that voters will teach a lesson to those who allegedly funded the anti-CAA protest in Delhi's Shaheen Bagh and those who supported it.
"Aam Aadmi Party's Amanatullah Khan funded Shaheen Bagh and Delhi's Deputy CM supported it...They have done nothing to lift the blockade (at Shaheen Bagh)," Jaju told reporters.
(With PTI Inputs)
Also Read: Delhi Election 2020: My sixth sense says BJP will form govt in Delhi, says Manoj Tiwari