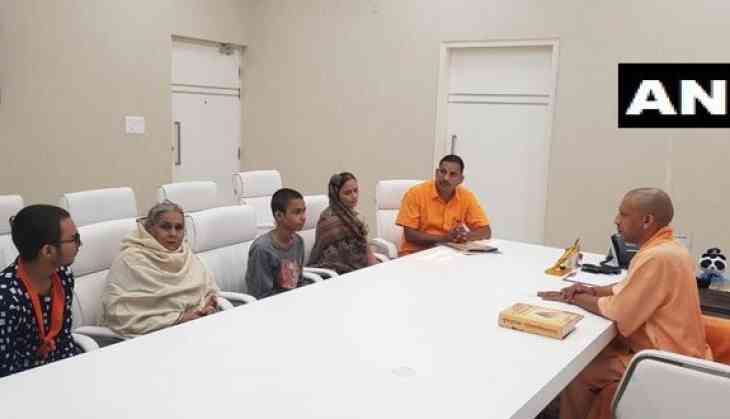 Kamlesh Tiwari's family, met Chief Minister Yogi Adityanath today afternoon. Talking to ANI after the meeting, Kiran Tiwari, the victim's wife, stated that the Chief Minister had guaranteed her that justice would be delivered. "We demanded capital punishment for the murderers. He assured us that they will be punished," she said.
The meeting was convened after the victim's mother and son spoke out against the probe into his death. Kusum Tiwari, the mother, claimed that her son was murdered by a local politician over a land dispute. Satyam Tiwari, the son, stated that the family did not have faith in the state administration and called for the case to be transferred to the NIA.
"We want the National Investigation Agency to probe the case. We do not trust anyone. My father was killed although he had security guards. How can we possibly trust the administration then?" Satyam Tiwari said.
Kamlesh Tiwari was provided with armed security by the local police station. On the day of his murder, the security was absent. The police stated that the guard had stopped the suspects and only allowed them through after checking with Mr Kamlesh.
Earlier, Kiran Tiwari, the wife, threatened self immolation if her husband's killers weren't brought to account and stated that the Uttar Pradesh government had been told about threats against his life but had failed to act.
Chief Minister Yogi Adityanath termed the murder an act of mischief to create terror.
Earlier, UP police stated that they may have found clothes matching the description of those worn by the two male suspects in the murder. Clothes, stained with blood and a few bags were found from a hotel near Kamlesh's house.
AlsoRead: PM Modi's Turkey visit canceled after Erdogan supports Pakistan on Kashmir