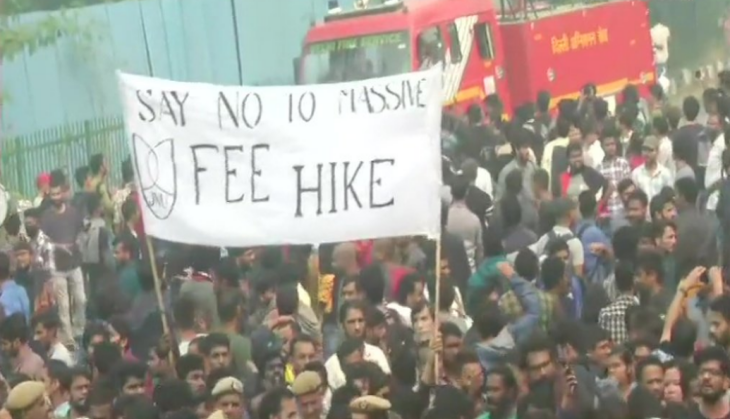 Jawaharlal Nehru University is currently facing students' anger over different issues including fee hike on Monday. The Jawaharlal Nehru University Students Union (JNUSU) took to Delhi street and protested against the anti-student policies that varsity administration introduced recently.
On Monday, the varsity is also scheduled to hold its third convocation and the chief guest of the event is Vice President M Venkaiah Naidu.
The current situation outside the JNU campus has created chaos and the police are trying to prevent any aggravation by setting up barricades.
However, students were seen clashing with the Delhi police.
As per the latest visuals, a large number of students have come together to raise their voices against arbitrary policies imposed by the varsity.
Delhi: Jawaharlal Nehru Students' Union organises protest over different issues including fee hike, outside university campus. pic.twitter.com/KGU8epEOwD

— ANI (@ANI) November 11, 2019
One of the protesters told news agency ANU that the protests have been going on for the last 15 days over fee hike. He also added that at least 40 percent of students come from a poor background. How will they study? a protester asked.
Besides, students were seen holding big banners with a fee hike message that reads, 'Say no to massive fee hike.'
On Sunday, the students' union asked students to assemble in the campus and made a plan to raise their voices against the varsity and planned to march to the AICTE auditorium, where the convocation will be held.
On the othe hand, JNU administration on Thursday appealed students to stop agitating against a draft hostel manual, which allegedly has provisions for fee hike and dress code. The administration added that protests were affecting academic activities.
-With ANI inputs
Also Read: 'Shiv Sena will form next government in Maharashtra with support of Congress, NCP'