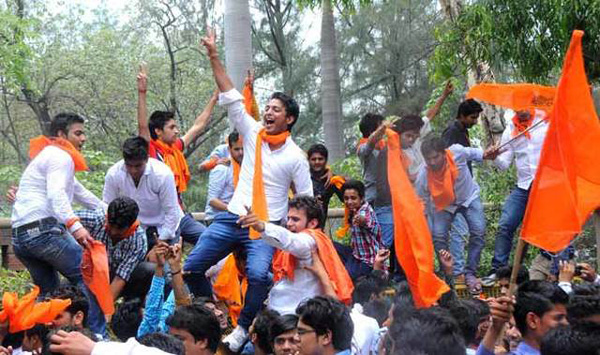 The Delhi Police's evidence against JNU Students' Union president Kanhaiya Kumar who has been charged with sedition, is based on 17 eyewitnesses of whom four are members of the ABVP, reports The Indian Express.
These four eyewitnesses stated that Kanhaiya had raised anti-national slogans at the 9 February pro-Afzal Guru event on the JNU campus that prompted the charges of sedition on Kanhaiya and eight other JNU students.
A JNU security officer said that Kanhaiya had led the procession, and the other eyewitnesses, including other campus security personnel and an ABVP office bearer, stated that Kanhaiya was present at the event where a few students had raised anti-national slogans.
The evidence report of the investigation carried out by the Delhi Police states: "Kanhaiya Kumar is seen by the eyewitness accompanying the procession of JNU students forming unlawful assembly and raising anti-national slogans. In video footage of 30 minutes collected officially from Zee News, Kanhaiya is seen at 17:30 minutes accompanying the procession."
The report added: "Kumar himself has not denied his presence at the spot".
The evidence report also said: "That was an illegal procession as there was no official permission in this regard as per the chief security officer of JNU and since the procession was more than five persons, who ultimately committed offense under section 147/149 of the Indian Penal Code."
The police also applied the charge of criminal conspiracy in the case. The report said: "Since permission was obtained on the false pretext of holding a cultural programme, by main organisers Umar Khalid and Anirban, which later turned out to be anti-national activity, it proved that it was preconceived and well-planned conspiracy by the accused persons for committing the said anti-national activity, hence section 120B of the IPC is added to the case."
The Delhi Police Special Cell, which focuses on terror cases, took over the case on Monday, after orders from police chief BS Bassi who retired the same day.
JNU students Umar Khalid and Anirban Bhattacharya were produced before a makeshift court, where their custody was extended for a day. They were then taken to the Lodhi Colony office of the Special Cell, where they will be joined on Tuesday by another JNU student.