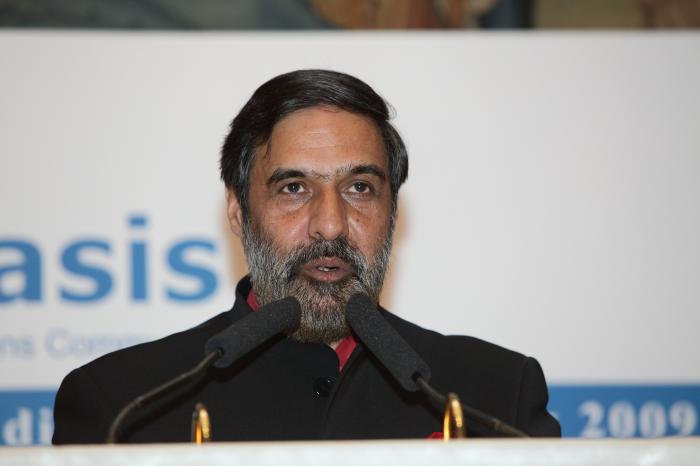 A day after he was allegedly attacked on a visit to the Jawaharlal Nehru University campus, deputy leader of the Opposition in the Rajya Sabha, Anand Sharma on 14 February filed a complaint against unknown person at the Vasant Kunj police station.
The Congress party on Saturday alleged that members of the BJP's student wing, the Akhil Bharatiya Vidyarthi Parishad (ABVP) attacked Sharma at the JNU campus when he visited the varsity along with party vice-president Rahul Gandhi.
Congress leader Randeep Surjewala said that the attitude of the ABVP goons reflected the mindset of the Prime Minister Narendra Modi-led government and the BJP, who want to shut down JNU. Surjewala told reporters:
"Today is a black day for India's democracy. Deputy leader of Opposition in Rajya Sabha Shri Anand Sharma and a senior Congress leader were publically attacked by government protected ABVP goons at JNU campus in Delhi. We condemn this cowardly attack in the strongest possible words".

"They want to shut down JNU by a conspiracy hatched by the RSS. They want to take away civil rights of the students by brute force of hooligans protected by Delhi Police".
Gandhi visited the varsity's campus along with several Congress and opposition leaders in the wake of the controversy following the arrest of JNU student union president Kanhaiya Kumar,
In his address to students, Gandhi launched a scathing attack on the BJP and said that anti-national people are those suppressing the voices of students. He also lambasted the Centre over the arrest of the JNUSU president, and alleged that the ruling government was terrified of dissent.
His remarks came after the JNU students' union president was arrested in a sedition case over a protest event at the campus against the hanging of Parliament attack convict Afzal Guru - which sparked massive outrage among students.
(With inputs from ANI)