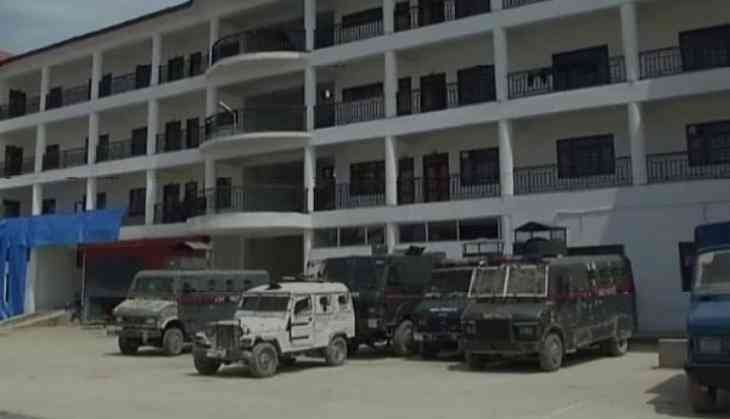 J-K Police upgrading infrastructure facilities for jawans
The jawans of Jammu and Kashmir Police (JKP) hailed the authorities for upgrading the much-needed infrastructure with all the facilities in the valley.
With the help of up gradation drive done by the Jammu and Kashmir Police authorities, maximum police stations and District Police Lines (DPL) were getting new basic infrastructure facilities aimed to provide mental as well as physical relaxation to jawans.
After working for long hours, in critical conditions, rough terrains, the soldiers in the Valley deserve good atmosphere.
For the benefit of the jawans, the authorities are upgrading maximum police station and are also constructing new buildings with all necessary facilities including computers with internet facilities, conference rooms, reading rooms where they can spend some time with books and newspapers.
"In any service delivery, there is a need for a good work atmosphere. We get money through Police Modernisation Scheme which we use in the development of infrastructures. Many police stations, district offices, battalion headquarters, etc. were constructed to provide facilities to our jawans who do hard work every day for long hours," Director General of Jammu and Kashmir Police, S. P. Vaid told ANI.
As physical fitness is very important for the jawans to perform their duties with full spirit, hence, the jawans were getting gym facilities to maintain their fitness.
In district police line (DPL) Srinagar, the up gradation process of some specific buildings has been completed with the latest infrastructure including restrooms, hygienic mess, hair cutting saloons, new washrooms and other facilities as well.
Presently, a number of new buildings are also under construction and authorities will complete the project very soon for the benefit of the jawans.
A mega construction initiative has been taken up across the valley to provide better facilities to the jawans and officers.
"Day by day, infrastructure is improving which is good for all of us. Here, we are getting new washrooms, hygienic mess," Constable Mushtaq Ahmad said.
-ANI