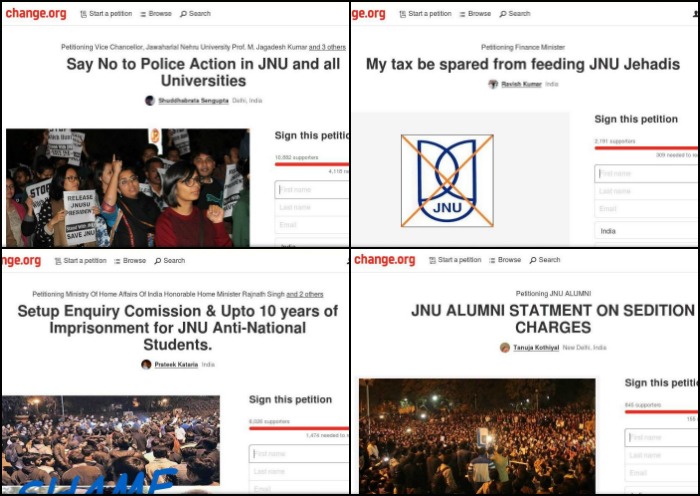 The debate around the JNU crackdown has been gaining momentum on the online petition forum Change.org with a flood of opinions gushing in.
Two petitions that received the most number of signatures were launched on 12 February. They present both ends of the debate and carry statements from intellectuals, academicians, artists, and students in support of their arguments.
'Punish the students'
A petition initiated by Prateek Kataria asks the 'commission of inquiry' to punish the students allegedly guilty of anti-national sloganeering at an event held at the Jawaharlal Nehru University (JNU) on 9 February. Around 6,109 people have signed it. The petition criticises the event and terms the slogans a "threat to the unity, sovereignty and diversity of India".
"Such school of thought will lead to the growth of anti-national sentiments in the country and also impact the peace and harmony within the nation. These students should be punished strongly," it says.
'No to police action in JNU'
A counter petition calls for 'No to police action in JNU'. Launched by Shuddabrata Sengupta, it drew 10,797 signatures. Noted personalities like Romila Thapar, Jeet Thayil, Sanjay Kak, and Ashish Nandy lent their written support to it.
"The only way to counter such incidents, when they occur, is through a deepening of dialogue, not through police action. The police have no business to enter places of learning and harass students when there had been no breach of peace," the petition says.
'Disciplinary action against the lawyers'
Yet another petition launched by Rupali Samuel demanding "disciplinary action against violent lawyers" garnered 2,009 supporters. It urged the chairman of the Delhi Bar Council to take immediate suo motu action and institute proceedings against the lawyers who resorted to violence at the Patiala House Courts compelx.
"Under Section 35 of the Advocates Act, 1961, the Delhi Bar Council must refer the issue to disciplinary committee if it has any reason to believe that a lawyer on its roll has been guilty of professional or other misconduct," it says.
'An attempt to discredit the university'
A JNU Alumni statement on sedition charges initiated by Tanuja Kothiyal and 11 other former JNU students on 17 February has 840 supporters so far.
It reads-
"JNU has, over the years, nurtured and promoted a culture of open discussion. It has allowed people from varying political persuasions to debate ideas and dissent. This is what a university should do. We condemn the curbing of this culture of debate and discussion"
"The accusations of 'anti-nationalism' and 'sedition', appear to us as attempts to discredit the university at a time when funds available to public institutions are being withdrawn."
'Stop subsidy for JNU'
There are some other petitions too, including one asking for withdrawal of government subsidy to JNU. This particular petition has collected 2,372 signatures and the other demanding- 'My tax be spared from feeding JNU Jehadis' attracted 2,189 supporters.
To counter it, JNU alumni have started a petition supporting subsidised education at the institution, receiving 1,800 signatures so far.
A few more petitions that have more than 100 signatures have been launched by people claiming to be former JNU students. They say they are very proud of JNU but upset at the statements that have been made there.
For instance, a statement by a forum for JNU alum - Save India, Save JNU - reads: "We, the undersigned appeal to the JNU community to cooperate with the investigation and isolate these subversive elements. The political parties supporting attempts to shield the culprits should desist from playing politics on issues of national importance.