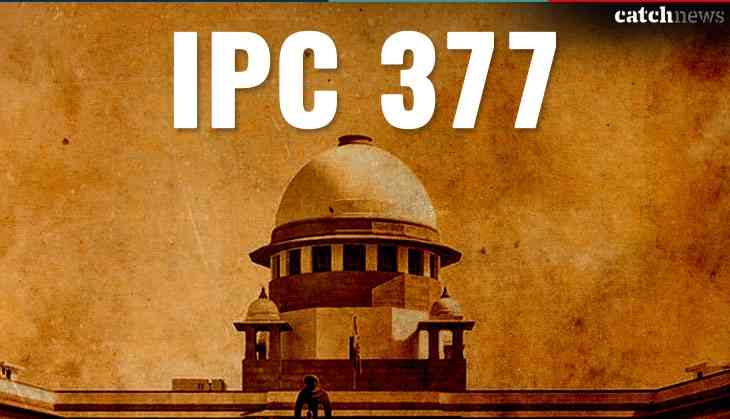 The Supreme Court has started hearing to pronounce its verdict on the IPC Section 377 of bringing gay sex under the offence. The country's highest court had refused to delay the hearing on Monday filed by Center seeking scrapping of Section 377 IPC. The Central Government wanted that the hearing of this case is taken at least four weeks later.
The constitutional bench of the Supreme Court is hearing the case, comprising Chief Justice Deepak Mishra, RF Nariman, AM Khanvilkar, DC Chandrachud and Indu Malhotra.
Read the update of the hearing here:
- Indu Malhotra, the only judge on the bench, said that homosexuality is not only seen in men but also in animals. He was commenting on Datar's gay sex as general and non-violent and telling a form of human sexuality.
- On behalf of the petitioners, Arvind Datar said that 1860 code of homosexuality was forcedly imposed on India. It did not even represent the British Parliament's desire.
- Chief Justice Deepak Mishra commented that this matter is only related to the validity of IPC section 377. It has nothing to do with marriage or other civil rights, that debate is second.
- Tushar Mehta said that this case should be limited to Section 377. It should not have any effect on succession, marriage and sexual matters.
Tushar Mehta is keeping the Central Government's favour. He said that the government will maintain its stand today.
- Rohatgi on this said - yes. Natural sex cannot be defined by the moral values of 1860 of British colonists. The ethics of ancient India was different from Victorian ethics.
-Justice Nariman asked Rohatgi whether it is his argument that homosexuality is natural?
- Rohatgi also gave examples of Mahabharata's Shikhandi and Ardhanarishwar, how Section 377 misinterpret sexual morality.
- Rohatgi said - Section 377 violates human rights. Along with the change in society, ethics change. We can say that 160 years old moral values will not be of today's moral values.
Rohatgi further said - Section 377 talks about 'natural' sex. Homosexuality is also natural, it is not unnatural.
- Rohatgi said - In the western world, research has been done on this subject. There are hereditary causes of this kind of sexual tendency.
Rohatgi added - in this case, there is nothing to do with the Gender. The case of sexual tendency is also different from choice. It is natural. As it is born, it comes in the human being.
- Mukul Rohatgi said - Sexual orientation and gender (gender) are different things. This case relates to the sexual tendency.
- The logic of Rohatgi - Section 377, the LGBT community feels like an undeclared criminal. The society also sees them differently. They should feel safe with constitutional provisions.
- Rohatgi is making arguments against Section 377 He is arguing for the removal of Section 377 on behalf of the petitioners.
- Former Attorney General Mukul Rohatgi started his debate. Additional Solicitor General Tushar Mehta has been present on behalf of the Central Government.
Also read: IPC Section 377 hearing in Supreme Court today: What is Section 377? Know what is the punishment for homosexuality