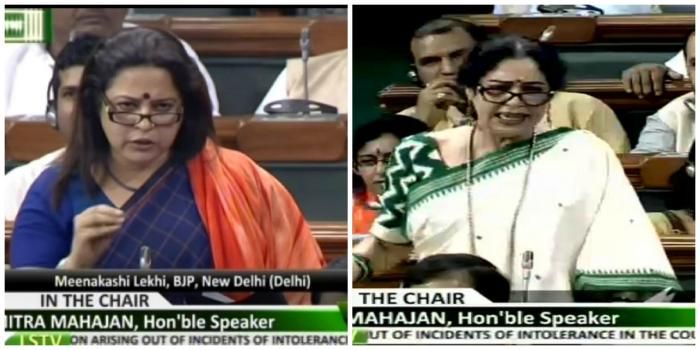 BJP has been battling charges of not being able to keep a check on the increasing intolerance ever since it came into power in May 2014. Award Wapsi, superstars speaking out, and FTII students protesting against "saffronisation" of their institution -- the party was already bogged down with attacks and criticism from all corners when the Opposition made sure that the issue of intolerance was debated in Parliament too.
One must recognise that the party has done a decent job of defending itself. And all thanks to the two most popular woman faces of the party., Meenakshi Lekhi and Kirron Kher.
The duo was appreciated on the social media too for their arguments in the Parliament and saving the day for BJP.
The BJP should use Kirron Kher much more as a spokesperson. She did a good job in Parliament

- Ashok Malik (@MalikAshok) December 1, 2015
For those who missed watching the fiery @M_Lekhi addressing the Lok Sabha on Intolerance today. Way to go!! https://t.co/toxhy3cDzt

- Priti Gandhi (@MrsGandhi) November 30, 2015
I want 90% reservation for Women in BJP. It seem they are only ones with spine in BJP. Meenakshi Lekhi yesterday, and today Kiron Kher.

- Srinivas Hariharan (@srini_hariharan) December 1, 2015
Kirron Kher got a pat in the back from husband Anupam Kher.
@KirronKherBJP was BRILLIANT in the parliament today about debate on Intolerance. Jai Ho.:)

- Anupam Kher (@AnupamPkher) December 1, 2015
1. Fact-based speech
Meenakshi Lekhi, particularly, chose to hit out at the Opposition with facts on Monday, while defending her government.
She provided concrete data to prove that communal incidents have actually gone down during the current NDA regime.
She also successfully exposed UPA's hypocrisy on the issue of beef ban. She brought it to the notice of the Lower House that 21 out of the 29 states had banned cow slaughter much before BJP came to power. She also challenged the Congress to change the cow slaughter law in UPA-governed states.
While, Meenakshi Lekhi punctured the Opposition attack on issues of beef ban and communalism, Kirron Kher upped the ante on the Award Wapsi and crackdown on freedom of expression fronts. She brought to the notice of the house that even during Congress rule Pakistani bands were denied permission to perform.
She also spoke about how All India Radio banned singer Kishor Kumar when he refused to lend his voice for Indira Gandhi's 20-point plan.
She also brought home her point by citing the example of author Vikram Sampath who stepped down as the organiser of the Bangalore Lit Fest after a clash of opinions between him and other participating writers on the Award Wapsi movement. Sampath had written an article, making public his opinion on why he won't return his Sahitya Akademi award. This led to other writers withdrawing from his Lit Fest.
She bluntly stated on the floor of the House that the Indian film industry had faced a lot of intolerance from the Congress and it was NDA that gave Bollywood the status of an Industry..
2. Ease with language
Both the women have extraordinary communication skills. Meenakshi Lekhi is a trained lawyer while Kher has a degree in Indian theatre. Since good speech is all about coinage of lasting phrases that gives credence to one's point of view, Lekhi must be credited for coming up with the phrase "intellectual mercenaries."
She used it to describe the act of intellectuals who have returned state awards as a mark of protest. One might disagree with the phrase and also protest the use of the term while speaking about eminent personalities, but in the war of words she definitely scored a brownie point by coining it. The word made it to headlines and is going to stay in political memory for some time.
Ditto for Kirron Kher. The actress turned politician has a way with words that naturally attracts the attention of even her worst detractors. Today, on the floor of the House, she was successful in bringing home the point that Congress was resorting to the intolerance and secularism debate because it couldn't provide good governance. She said: "It is all a game of perception."
3. A no non-sense attitude
Both seem to have a no non-sense attitude. They stop at nothing when it comes to defending their party. Lekhi's curt replies and point by point rebuttal reflects her ability to argue a case with great panache, wit and sometimes aggression.
Same is the case with Kirron Kher. At the great risk alienating the film fraternity, she spoke against Aamir Khan and Shahrukh Khan, (the latter is friends with her husband Anupam Kher), on the floor of the House.
One may disagree when she says that the Khan duo has had privileged lives but the quality to keep aside one's personal relationships and speak just to defend one's party is a sign of good debater.