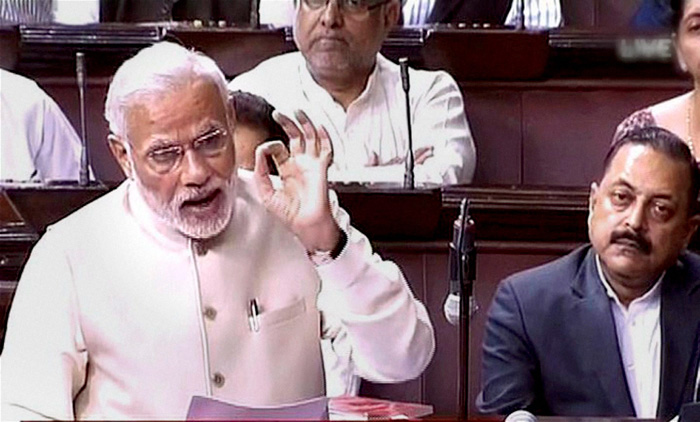 The Lok Sabha, on 30 November and 1 December, saw a fierce debate on the topic of intolerance which has been a burning issue in the country for a while.
A number of comments have been made and awards have been returned in protest of the alleged growing intolerance in the country. The masses were perhaps waiting for their representatives to also share their views in a comprehensive manner so as to put a closure on the debate and find a conclusion.
The two-day debate on intolerance experienced some great speeches from CPI(M) leader Mohd Salim, BJP minister Meenakshi Lekhi, Home Minister Rajnath Singh and Congress Vice President Rahul Gandhi among others.
BJP ministers defended the idea that the intolerance 'fiasco' was a manufactured attempt by the opposition parties and intellectuals who want to malign the image of the ruling party. On the other hand, Congress and other left parties continuously lambasted the Modi government for playing an 'incognito' role in nourishing the intolerant elements who were destablising the communal harmony of the country.
Here are three unique speeches which you need to acquaint yourself with:
Kirron Kher
The BJP MP from Chandigarh and a prominent Bollywood face, Kirron Kher started off her speech by putting forth a question that in which context it was being alleged that the intolerance was growing. She attacked the UPA government of being equally intolerant during its rule and also questioned the intent of the intellectuals for not raising their voice in the past.
The All India Majlis-e-Ittehadul Muslimeen chief Asaduddin Owaisi opined that minorities like Muslims and Dalits were the biggest losers in the intolerance debate. He accused the ruling party of attacking them and also the 'secular' parties of treating them as a mere vote bank. Owaisi had a unique point of view which was not being heard a lot because of the two polarising voices on the entire debate.
Sugata Bose
A strong voice of dissent came from Sugata Bose of Trinamool Congress who started his speech by quoting Dr BR Ambedkar and enunciating that safeguarding the interests of minorities was a priority in a democratic country. The Jadavpur MP talked about learning the values of constitutional morality and urged the government to listen to dissenting writers, artists and scientists.