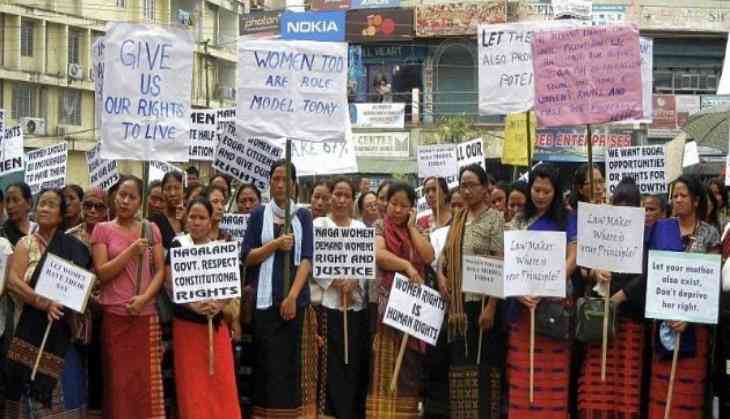 The all-male Naga tribal bodies in Nagaland have proved much since January 2017. In fact, they have been proving a lot for a very long time. Since "time immemorial"? Since the beginning of this year, these bodies have proved that they can bring the state, people and Government of Nagaland to a standstill, hold us all to ransom, ward off any interference from the Central Government and prove the GoI's impotence (fully cognizant of the BJP-led Central Government's electoral calculations and priorities in all states), force a Chief Minister with majority support in the state Assembly to resign thus set a precedence in the entire country, force candidates who have filed their nominations to the announced Urban Local Bodies' (ULBs) elections, even ex-communicate candidates who refused to "obey" their dicta, destroy and commit arson of public property, force "youth" and later when the supply of "youth" began to wane even with the threat of imposing fines of Rs. 500/Rs. 1000 per the number of "volunteers" each tribe/village was "directed" to provide, forced women to "volunteer" to enforce the bandh they called, cocked a snook at constitutional provisions, safeguards and guarantees, forced women organizations to disassociate from the Naga Mothers' Association (NMA) and forcefully created the conditions for the NMA to withdraw its Special Leave Petition (SLP) in the Supreme Court way back in 2006, successfully turn their opposition to women's reservation in ULBs to gunning for and removing the former Chief Minister, continue to demand his removal from any position under the new Chief Minister, now demand revocation of the Nagaland Municipal Act and generally show who's boss around here by sheer brute force ~ to list some of their achievements.
Oh, and these bodies have also proved the myth of the equality of men and women in Naga society not only by opposing women reservation in ULBs but also by forcing women organizations to disassociate from the NMA, forcing the NMA to withdraw its SLP from the Supreme Court and by making physical and sexual threats to leaders of the NMA and other women organizations, as also women candidates, who intended to file and/or filed their nominations for the ULB elections.
Further, by the very act of citing "culture, customs and traditions", these bodies reiterated the deeply-embedded patriarchy that is the lait motif of Naga society ~ and to understand and appreciate this, one has to know the code of beliefs system fundamental to Naga Customary Laws.
But such insistence on adhering to this code of belief system, which they claim have been in practice "since time immemorial" but is debatable, also underscores their unwillingness, as also apprehensions and insecurity, to meet the changes time demands.
What these bodies have also proved is their resistance ~ perhaps because of their inability ~ to fully emerge from darkness to light ~ an oft-repeated phrase to indicate how far Naga society have come since the introduction to Christianity. But now these bodies need to prove much more ~ even to validate their existence ~ since none of them can claim to exist "since time immemorial".
For one, they would have to prove that Naga men and women are indeed "equal". Two, they need to prove their ability to repair and renew Nagaland's tottering economy, which suffered a body blow during the 24-day bandh they called ~ after all the Indian rupee is not a part of Naga culture, customs and traditions or even Article 371 (A).
They would have to prove they have the ability to make good ~ post haste ~ the multi-dimensional loss the state and people of Nagaland incurred during the bandh. More importantly, they now need to repair the severely battered reputation of the society and state of Nagaland in the eyes of the global community.
Then again, there is also much to probe and set the record straight since there are reports of Government employees (all males, of course) heading these bodies, and of some senior Government employees provoking the "mob" to destroy and commit arson, as well as the role of money to vis-à-vis the bandh.
There are reports that the bandh was not actually about politics, much less the women's reservation issue, but all about money. These bodies would now have to prove that these are false and baseless allegations.
Meanwhile, the state Government ~ another all male bastion ~ would have to explain its ineffectiveness and inaction even much before the bandh ~ and now its silence and inaction on the women's reservation issue and the bandh. The Central Government also needs to explain it doing a Pontius Pilate when Nagaland was burning. It is against this unchanged scenario, Nagaland wakes up to the International Women's Day.
(The writer, a journalist and poet, is editor of 'Nagaland Page')
Disclaimer: The opinions expressed within this article are the personal opinions of the author.