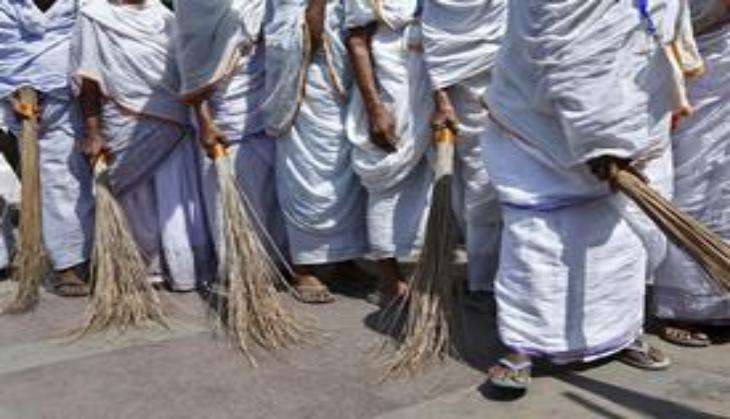 If the world were a fairer place, International Widows Day would have been a day of celebration and not just an opportunity to highlight the issues and raise awareness about their basic rights.
According to the 2011 census, India is home to about 5.6 crore widows. Once widowed, women in India are faced with a a host of issues - ranging from being denied inheritance and rights to discrimination from society.
According to the Home Ministry's National Crime Bureau of India, violence against women is the fastest-growing crime. Every 34 minutes a woman is raped, and every 43 minutes a woman is kidnapped. Millions of widows continue to be deprived of their basic dignity as a kind of atonement for some sin. It's the punishment for being a woman and a widow in India.
To top it all off, the estimated 40 million women go from being called "she" to "it" when they lose their better-halves.
Tara Rana, social worker and Communication Officer, NGO Maitri, said, "Every month we are approached by approximately 30 new widows. Because we can't help all of them, we have a screening process to determine who is most needy and take those women into our care."
In India, though Hindu Succession Act 1969 legally provides widows ownership of property through inheritance, it had not been of much benefit as it remained only on paper.
Cast out by their families or simply alone in the world, many women in white travel hundreds of miles to get to the temple-crammed town of Vrindavan, also known as "the city of widows."
Tara, whose Delhi-based non-governmental organisation works with the destitute widows living in Vrindavan and Radha Kund, noted, "The most common challenge these widows face is finding a decent living space. They often can't come up with enough money to rent a room, so they end up living in public spaces. The women who can afford to rent an inexpensive space end up in tiny rooms with nothing but a cot to sleep on. In both cases, they lack electricity and proper sanitation facilities."
She added, "Most widows can't afford food either, which forces them to rely on temples for meals and beg. Health problems surface a result of their improper diets and sanitation facilities, and the women don't know who to go to for help. They often don't know about free government programs, and don't have any documents to prove their identity. Without ID cards, they can't access Widows' Pension or government health care and are even further cut off from resources."
Under Widow Welfare Scheme of Government, National Social Assistance Programme, widows aged between 40 and 64 are given Rs 600 monthly pension, which is not sufficient for a life to survive.
Anita Bhardwaj (real name withheld) - a 42-year-old - was mistreated by her in-laws after her husband's death. She was beaten and deprived of all the rights. She was not even allowed to meet anyone.
Later, with the help of a family friend, she was able to register her case and raise voice against injustice. Her case was reported under 498 A IPC and Domestic Violence Act 2005. The accused family members were sentenced to 4-month imprisonment and penalty. She also got her share in the property. After that, she is living an independent secure life.
"I lost my husband when I was 40 and there were times that my family, especially married women refused to even eat with me. I remember not being invited to events, people looking at me suspiciously if I smiled or laughed or at times even refusing to sit with me. It was almost like I was the reason why my husband died and I was left to live with the guilt. I still remember my mother telling me that I should have died with him. I was treated worse than an untouchable and deprived of all rights," informed Anita.
Kunal Madan, solicitor and advocate, KMA Law Firm, has been actively working particularly on widow-related cases in Delhi High Court. He stated "It's very unfortunate that though we are stepping in 21st century and in this era of technology and modernisation there is one area in which we are still awaiting transformation ie maltreatment with widows."
"Widowhood in India is still a state of social death, even among the higher castes. We have witnessed various actions taken by the society and recent amendment in Indian Penal Code has also strengthened the Law against Women. However, the problem is due to lack of awareness about their right the actual incidents are rarely reported," added Madan.
He informed that in the rural section of our society, various rituals, which are considered as offences under IPC, still continue to be followed.
A dearth of reliable hard data remains one of the major obstacles to developing the policies and programmes to address the poverty, violence and discrimination suffered by widows. There is a need for more research and statistics disaggregated by marital status, sex and age in order to help reveal the incidence of widow abuse and illustrate the situation of widows.
Madan further said, "We need more laws to protect the special rights of widow and legislators must focus on these aspects or else we as widows are just doing their time in living hell."
This International Widows Day, let's pledge to make society better for widows.
--ANI