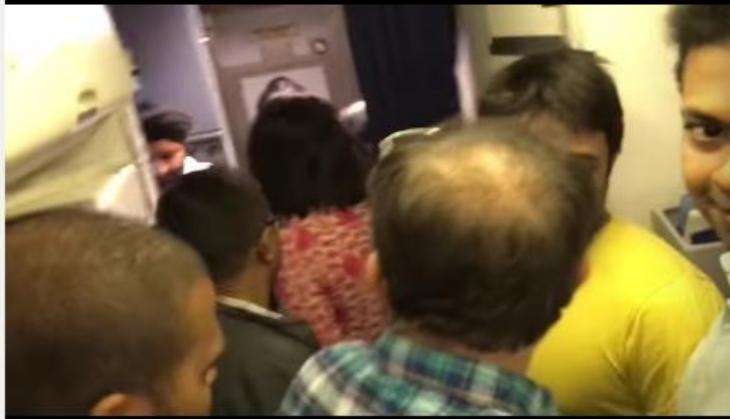 A Jet Airways flight from Mumbai to Bhopal was delayed by almost 90 minutes on 2 December after a group of 17 passengers caused ruckus over the flight being overbooked.
"A technical glitch resulted in Jet Airways flight 9W 7083 (S2 4621) on 2 December, being overbooked. This resulted in confirmed guests on the flight being denied boarding," the airlines said in a statement.
A group of 80 people had booked the flight to attend a wedding in Bhopal. Of the 80-person strong wedding party, 17 arrived late at the airport, leading to cancellation of their booking. The vacant seats were then allotted to other passengers.
The Gujarati family - who claimed to be connected to a 'powerful' minister - threatened the authorities, demanding that the late-comers be given seats and refusing to let the flight take off without them.
According to reports, the pilot also announced that the Bhopal airport would be shut at 9 am for renovation purposes but the family paid no heed to the announcement.
Succumbing to the pressure, Jet Airways tried to persuade people to get off, even going as far as to bribe them with Rs 10,000 if they complied with the wedding party's demands, promising them seats on another flight scheduled for that evening.
The chaos went on till five people volunteered to accept the Rs 10,000 and deboard. The flight, scheduled to land at 0710 hours, finally took off at 0800 and landed at 0910 hours.
"The offloaded guests - part of a larger group, refused to accept the airline's offer of compensation/re-accommodation on alternative flights, and together with other members of the group, proceeded to hold the flight," an airline spokesperson said.
This led to "an unruly situation, necessitating the intervention of law enforcement officials, causing the flight to be delayed by 90 minutes and inconveniencing other guests who were already on board the aircraft," the spokesperson said.