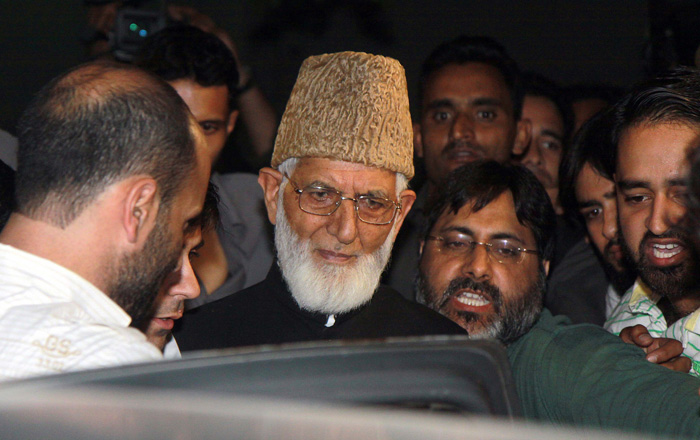 The upcoming Indo-Pak NSA-level talks appeared to be on the verge of being aborted with both sides locked in a confrontation over Kashmiri separatist leaders.
In the latest developed separatist leader have been again put under house arrest. Kashmiri separatist leaders Syed Ali Shah Geelani and Mirwaiz Umar Farooq have been put under house arrest.
On 20 August, all separatist leaders were put under house arrest and released within three hours.
However, separatists have made it clear that they would be going on with their talks with Pakistani High Commission.
India made it abundantly clear that a meeting between separatists and Pakistan's NSA Sartaj Aziz, who is scheduled to arrive here on Sunday for the talks with his Indian counterpart Ajit Doval, was unacceptable. Kashmiri separatist leaders had been briefly detained before being released yesterday in a clear signal to Pakistan.
External Affairs Minister Spokesperson Vikas Swarup, said "India has advised Pakistan yesterday that it would not be appropriate for Sartaz Aziz to meet with Hurriyat representatives in India. Such a meeting would not be in keeping with the spirit and intent of the Ufa understanding to jointly work to combat terrorism."
Within hours, Pakistan government sources reacted sharply to Indian position and said, "The talks with Hurriyat are on.
Pakistan will not take dictation from India. (Indo-Pak) talks are not based on conditional diplomacy."
Pakistan also accused India of running aways from the talks, saying it was yet to send it a proposal on the logistics and agenda for the Aziz-Doval talks.
Hardened positions on both sides have cast a shadow on the talks but neither side has called them off so far.
The two NSAs are scheduled to meet in New Delhi for talks on terrorism-related issues for the first time on August 23, as decided in a meeting between Prime Ministers Narendra Modi and Nawaz Sharif last month in Ufa in Russia.
The invitation by the Pakistan High Commission here to hardline leader Syed Ali Shah Geelani and other separatist leaders including Umar Farooq on Sunday to meet Aziz has upset New Delhi but Pakistan has stuck to the line that such meetings were "routine".
Pakistan Foreign office had already said in Islamabad that consultations with Hurriyat leaders were a "routine matter" and a "long standing practice".
The Pakistani invitation, which is seen as yet another "provocation" by Indian side, comes after persistent ceasefire violations as well as two terror attacks in recent weeks in Gurdaspur and Udhampur which many observers see as Pakistan army's opposition to any discussions with India.
Last year, India had unilaterally called off Foreign Secretary-level talks after the Pakistan High Commissioner here had held "consultations" with the Kashmiri separatist leaders on the eve of FS-level meeting in Islamabad.
--PTI