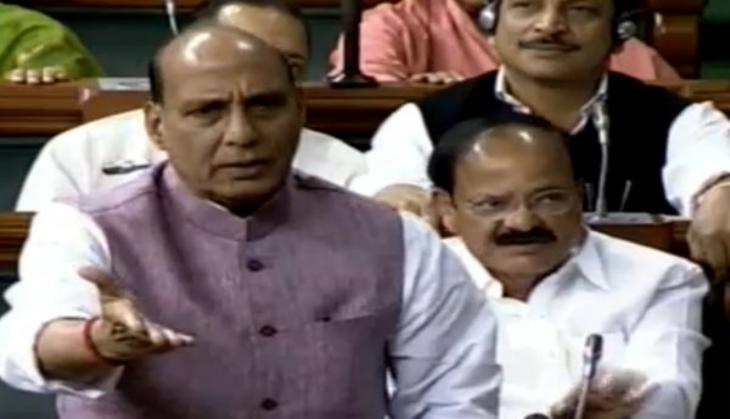 The Home Minister confirmed on 5 August that Pakistan didn't allow Indian journalists from Doordarshan, ANI and PTI to enter the venue of the SAARC Home Minister's conference in Islamabad, during his speech. The Home Minister was answering questions raised by members of Rajya Sabha about his visit to Pakistan for the seventh SAARC Home Ministers conference.
The members of the House wanted clarity on whether media reports about his speech being blacked out were indeed true. Without mincing words, Rajnath said: "It is true that reporters of ANI, PTI and Doordarshan were not allowed to cover my speech. However, I need to ask the External Affairs Ministry to understand whether speech being blacked out even by local media is a part of a protocol or not."
On the question of skipping lunch hosted by the Interior Minister of Pakistan he said: "We were invited by the Interior Minister for lunch after the meeting was over. But right after extending the invitation, the Minister sat in his car and left. I, keeping in mind India's interests, also chose to skip the lunch."
Later, the Home Minister lunched in his hotel. Both these responses were met by the unanimous clamour of "shame shame" (at Pakistan) by all parties. Leader of Opposition in the House Ghulam Nabi Azad condemned the Pakistan's behaviour. He said: "If home minister did not receive respect and honour due to him in Pakistan during his visit as per protocol, we condemn it."
Singh also spoke about how he was received at the airport. There were concerns about his visit to Islamabad, given that several organisations had called for protests against the unrest in Kashmir.
Singh arrived in Islamabad on Wednesday amid protests by supporters of the Hizbul Mujahideen and the Harkat ul Mujahideen. The protests were held at a distance of about 10 kilometres from the National Assembly. Hizbul Mujahideen chief Syed Salahuddin was also present during the protests.
"On my way from the helipad to my hotel, I saw groups of 100s, somewhere 10s protesting against me. If I was worried about the protests, I wouldn't have gone there."
"Unhone jo kia so kia, mujhe koi narajgi nahi hai (I am not offended with this kind of behaviour)," added Singh.
All parties unanimously praised Rajnath Singh's terse message to Pakistan.
During his visit, Singh launched a veiled attack on Pakistan, saying mere condemnation of terrorism and individual acts by terrorists was not enough. He categorically stated that there is no good or bad terrorist. Singh added that strongest action should be initiated not only against terrorists but also against organisations, individuals and nations supporting terror.
Here's are some highlights from the his Parliament address today.
I urged all SAARC nations to neither glorify terror nor patronise terrorists: HM Rajnath Singh in Lok Sabha pic.twitter.com/AKSJ1X1EiR

— ANI (@ANI_news) August 5, 2016
Ye padosi (Pakistan) hai ki maanta hi nhi: HM Rajnath Singh in Rajya Sabha pic.twitter.com/lWR5Pda1eq

— ANI (@ANI_news) August 5, 2016
All our PMs have done their best to improve relations with our neighbours bt the problem is "yeh padosi hai ki maanta hi nahi hai": HM in RS

— ANI (@ANI_news) August 5, 2016
As far as blacking out of speech concerned,not aware of protocol norms followed during previous events, will have to gather info from MEA-HM

— ANI (@ANI_news) August 5, 2016
Pak Interior Min invited everyone for lunch,but then left in his car.I also left then.I have no grudges as I wasn't there to have lunch: HM

— ANI (@ANI_news) August 5, 2016
I join other members in condemning manner in which protocol norms were not observed & support strong statement made by HM: Anand Sharma,Cong

— ANI (@ANI_news) August 5, 2016