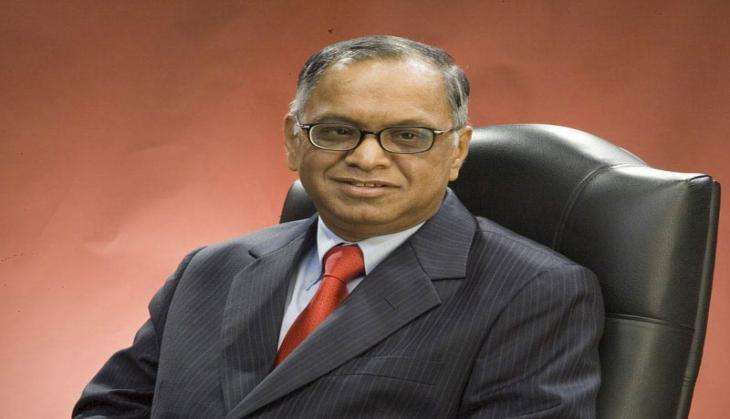 Infosys co-founder N R Narayana Murthy on 2 February urged Indian software companies to stop sending people on H1-B visas and focus on local hiring in the United States amid rising concerns over President Donald Trump administration's proposals to restrict inflow of foreign workers.
Stating that by and large Indian mindset is always to take the "soft option", Murthy -- one of the pioneers of India's IT outsourcing industry -- said becoming multi-cultural is not easy and is a "very, very hard option".
"They (Indian software companies) must recruit American residents in the US, Canadians in Canada, British people in Britain etc. That's the only way, we can become a true multi-national company and in order to do that, we should stop using H1-B visas and sending a large number of Indians to those countries to deliver services," Murthy said.
"I think even if the executive order comes, we should look at it more as opportunity for Indian companies to become more multi-cultural than we have been, rather than looking at it as a lacuna," he added.
A legislation was introduced earlier this week in the US House of Representatives which among other things calls for more than doubling the minimum salary of H-1B visa holders to USD 130,000, making it difficult for firms to use the programme to replace American employees with foreign workers, including from India.
The proposed overhaul of popular H-1B visa regime by US President Donald Trump has raised concerns among the Indian IT firms.
Also, the recent introduction of a US bill (Lofgren Bill) that proposes doubling of the minimum wages of H-1B visa holders to USD 130,000 from USD 60,000 has made the industry worried.
Any changes in the visa regime may result in higher operational costs and shortage of skilled workers for the USD 110 billion Indian outsourcing industry.
Reactions from different companies started pouring in soon after the Bill was tabled.
Vineet Nayyar, Vice-Chairman of Tech Mahindra told CNBC News 18 that, "If the reform goes through, the resultant increase in employee wages will be a cost worry for the IT industry, but Tech Mahindra doesn't see it as a disaster to be overly concerned."
Times Now quoted Economist Meghnad Desai as saying, "It is India's interests that Trump should be liberal with H1B visas. India exports labour and it is in India's interests that other people welcome India's labour. As the Bill has not been passed, it is too early to look at economic effects of the move. Obviously, there will be protests from importers of labour like Google."
--With PTI inputs