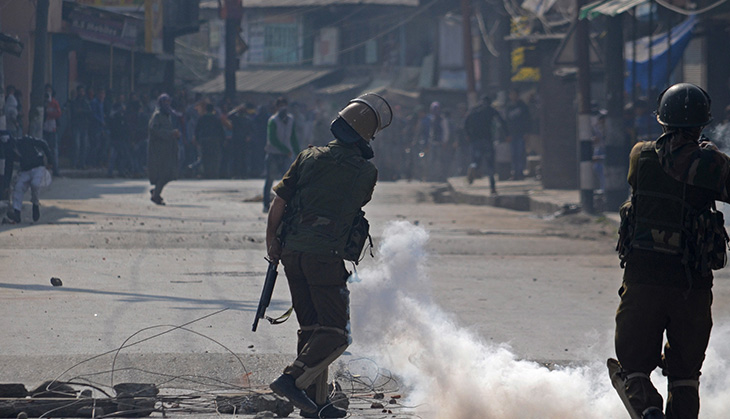 A court in Budgam, Jammu and Kashmir, chastised the police on Wednesday for what it called the "extra-judicial detention" of separatist leader Masarat Alam.
As he granted bail to Alam on a surety of Rs 2 lakhs, Masarat Roohi, chief judicial magistrate of Budgam, said: "So long as this part of the country is part of the Indian union, to which this court has no doubt, situations like Abu Ghraib and Guantanamo Bay cannot be tolerated, at least in cases which are raised in the courts..."
He observed: "The police station doesn't require him for custodial interrogation in police remand, but seeks his judicial custody... This kind of custody, in the opinion of this court, amounts to extra-judicial custody which cannot be sanctioned by any legal means."
Alam was arrested in 2010 for leading protests in the Valley and was released in March 2015, when Mufti Mohammad Sayeed was chief minister. One month later, he was arrested again for allegedly raising the Pakistani flag at a Hurriyat rally in Srinagar.
According to The Indian Express, the court also asked the police why they sought Alam's detention time and again. "If such a trend is sanctioned by the courts of law... (considering) the might of the state with an approximate number of more than 200 police stations, with every police station registering an FIR, granting 90 days of exhaustive remand... before the accused reaches a court of law for trial, he would have already spent 49 years and three months in jail, thus negating the whole presumption of innocence of the accused guaranteed to him by law," said the court.
"The fact remains that the accused is involved in an offence as alleged in the FIR. But the accused hasn't been detained for 90 days, but many 90 days commencing from April 15, 2015," said the court. "If the accused is anti-national and detrimental to society, let the state discharge its duty in bringing the guilty to book so that they are punished suitably... However, despite the fact that the state alleges the accused to be anti-national, the right of the accused as guaranteed by the Constitution and principles of justice... can't be denied to the accused indefinitely."