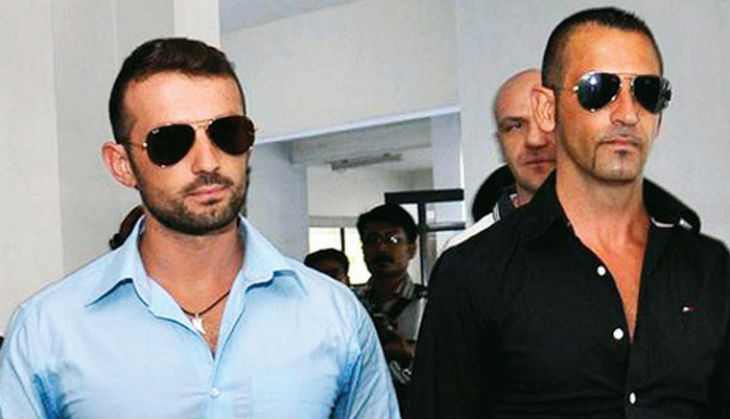 India told the Permanent Court of Arbitration at The Hague at a hearing on 30 and 31 March that it is prepared to allow Salvatore Girone, an Italian marine detained on charges of murder, to return to Italy provided certain conditions are met. India had previously strenuously objected to allowing Girone to go home.
Girone had been arrested along with another Italian marine, Massimiliano Latorre, in February 2012, on charges of murdering two fishermen off the coast of Kerala. While Latorre was allowed to return to Italy for medical reasons, Girone has been detained in Delhi since 2012, according to The Telegraph.
Though India reiterated its opposition to allowing Girone to return to Italy, Neeru Chadha, representing India, said that guarantees fixed by the PCA that Italy returns Girone to India for a future trial would be an acceptable condition for repatriating the marine.
"India needs to be assured that in case the tribunal finds that India has jurisdiction, the presence of Sergeant Girone would be ensured. Towards that end, India would deem it necessary that the tribunal itself fix these guarantees," said Chadha.
Francesco Azzarello, Italy's ambassador in the Netherlands, and Daniel Bethlehem, representing Italy at the PCA proceedings, gave a formal undertaking on behalf of Italy that the country would return Girone to India if the PCA tribunal ordered it to do so.
Bethlehem also listed additional conditions Italy would accept from the PCA tribunal.
"Such conditions might include that Sergeant Girone is required to surrender his travel documents to the Italian authorities, and that he does not travel outside Italy without express permission, and that he reports periodically to designated authorities in Italy throughout the period in question," Bethlehem said. "Such conditions would operate alongside the undertaking already given in Italy's name by the Italian agent in these proceedings."