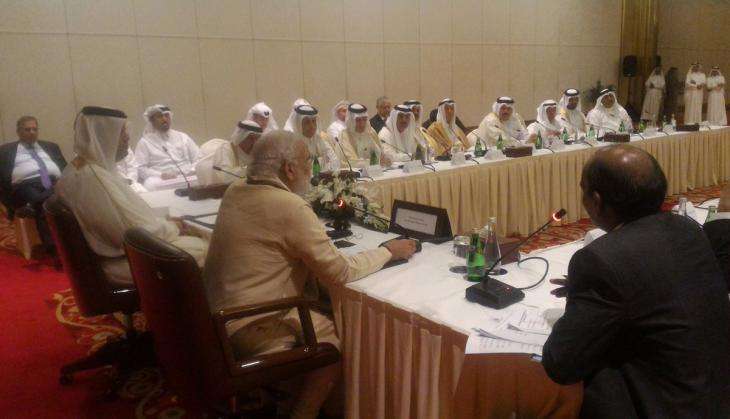 On 5 June, Prime Minister Narendra Modi lauded Qatar's Emir Sheikh Tamim Al Thani's role in promoting business ties between both nations. He also reached out to the business community in Qatar, advocating India as a land of opportunity.
PM Modi - who kicked off his first engagement on the second day of his official visit to Qatar - held a meeting with the business leaders to discuss trade and investment. He is said to have persuaded the captains of industry to invest in India as the country has made doing business easier.
"India is a land of opportunity. I have come to personally invite you to take advantage of this opportunity," Ministry of External Affairs official spokesperson Vikas Swarup quoted Prime Minister Modi as saying.
Building a business coalition for India's development. PM @narendramodi with Qatari Business Leaders pic.twitter.com/mUSXPWOmTg

— Vikas Swarup (@MEAIndia) June 5, 2016
"All of you recognise the potential of India. I will address the bottlenecks you have identified," he added.
Highlighting the initiatives of his government, including the Smart Cities project, PM Modi pitched that infrastructure expansion, upgradation and manufacturing are his other priorities.
"India's 800 million youth are its biggest strength. Infrastructure expansion and upgradation and manufacturing are my other priorities," the PM said. "Our projects for Smart Cities, metros, urban waste management etc are geared towards upgrading quality of life of people," he added.
During the meeting, PM Modi identified agro-processing, railways and solar energy as very promising areas for Qatari investment.
--ANI
PM @narendramodi identifies agro processing, railways & solar energy as very promising areas for Qatari investment pic.twitter.com/JASt28NIDm

— Vikas Swarup (@MEAIndia) June 5, 2016