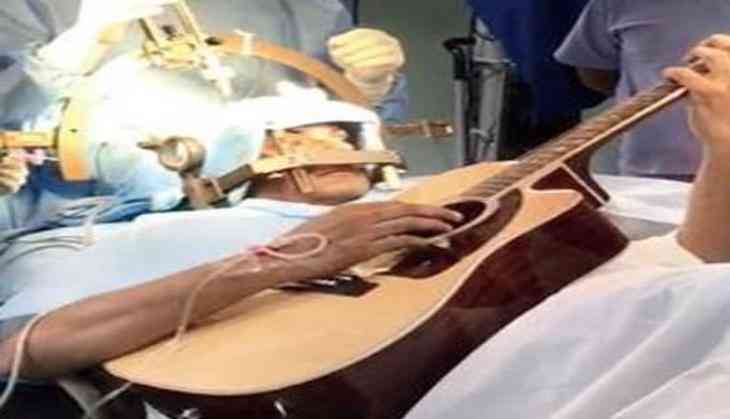 Bengaluru man plays guitar during his brain surgery (Twitter)
In an unbelievable incident in an operation theater, a Bengaluru man played guitar while undergoing a seven-hour-long brain surgery.
A techie-turned-musician was suffering from a condition called musician's dystonia, it is a muscle disorder that causes involuntary muscle contractions, cramping three fingers on his left hand.
A year and half ago, the musician suffered from his first cramps while playing his guitar.
Dr. Sharan Srinivasan, stereotactic neurosurgeon operated Abhishek Prasad in a unique way using guitar in the operation theatre at Bengaluru's Mahavir Jain hospital.
Dr. Sharan told ANI, "This kind of brain surgery using guitar in the operation theatre was challenging and a new concept in India."
Prasad had been facing difficulty in using his fingers normally and have been consulting orthopedicians for the treatment. However, his efforts proved futile and on the insistence of one of the doctors, he consulted Dr. Sharan.
The doctors found that MRI, CITI scans of Prasad were normal and then they did a detailed clinical diagnosis and found that the main problem was in Prasad's brain.
Dr. Sharan decided to operate Prasad using Radio Frequency Ablation.
"Technically we call it Radio Frequency Ablation. When the Radio frequency gives current, we block the small circuit and the problem which occur through the current stops. He was facing the problem while playing the guitar and we wanted to operate the problem with the help of guitar that is the reason we insisted him to play the guitar in the operation theatre," he added.
Abhishek while expressing happiness post surgery said that he would like to concentrate on music and playing guitar.
"I had visited several orthopedicians as my fingers were not working properly while playing guitar. But, finally I was insisted to visit Dr. Srinivasan for consultation related to my issue," Prasad told media.
-With ANI inputs.