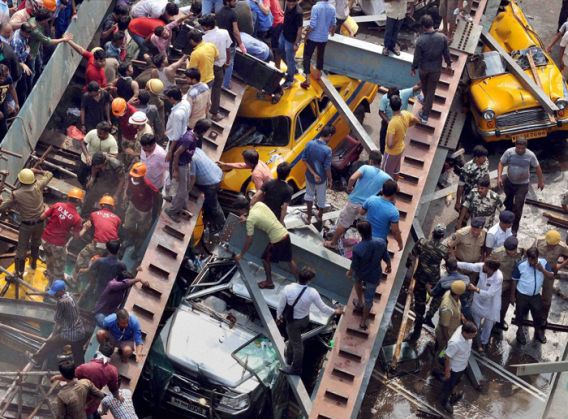 As of now, 14 people have been declared dead and about 78 injured, after an under-construction flyover collapsed at Bada Bazaar, Kolkata.
'Vivekanand bridge', which is near the busy Ganesh Talkies, collapsed at around 12.47 pm on Thursday. The number of casualties may rise as the day progresses as a large number of people are trapped under the debris.
While rescue operations are underway and the army has been called in, the current situation looks pretty grim. News reports show that civilians have jumped in to help the police and the fire brigade with the rescue work.
The flyover should have been completed three years ago and the completion of the project was reportedly delayed six times due to various reasons.
Car being pulled out from the debris of the collapsed bridge near Ganesh Talkies in #Kolkata pic.twitter.com/iNe3ozS6GQ

- ANI (@ANI_news) March 31, 2016
WB CM Mamata Banerjee at the spot where under-construction bridge collapsed near Ganesh Talkies in Kolkata. pic.twitter.com/1TBrjKuWjP

- ANI (@ANI_news) March 31, 2016
Vehicles stuck under the debris of the collapsed under-construction bridge near Ganesh Talkies in Kolkata. pic.twitter.com/CvBGQWxi10

- ANI (@ANI_news) March 31, 2016
Rescue operations underway for the collapsed under-construction bridge near Ganesh Talkies in Kolkata. pic.twitter.com/Ac9VrH3a5h

- ANI (@ANI_news) March 31, 2016
Our team is in contact with WB, NDRF teams have been disoatched: Kiren Rijiju (MoS Home) on #Kolkata bridge collapse pic.twitter.com/Sm5QNrrEti

- ANI (@ANI_news) March 31, 2016
Army reaches to assist in rescue work for the bridge that has collapsed in #Kolkata. pic.twitter.com/q1wR0c3007

- ANI (@ANI_news) March 31, 2016
Rescue operations underway for the collapsed under-construction bridge near Ganesh Talkies in Kolkata. pic.twitter.com/OkruPMHKem

- ANI (@ANI_news) March 31, 2016
Breaking: Vivekananda flyover near GaneshTalkies collapsed. #Kolkata !!! pic.twitter.com/ZGZtKv03BR

- Smriti Singh (@RjSmritii) March 31, 2016
WATCH: Desperate attempts being made to lift up fallen under-construction bridge to rescue trapped people in Kolkatahttps://t.co/qyt7XktjuX

- ANI (@ANI_news) March 31, 2016
--
Edited by Aishwarya Yerra