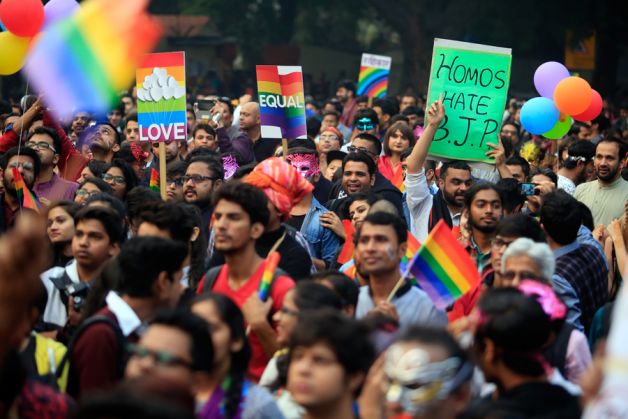 On 2 July, 2009, Chief Justice of Delhi High Court AP Shah in a historic judgement struck down IPC Section 377 that criminalises gay sex, acknowledging its right to life and equality.
It seemed Shah had permanently undone a huge injustice meted to a community that till then was considered largely criminal, merely because of its sexual orientation. The LGBTQ community, represented in their rainbow hues, celebrated the verdict. But these celebrations were short-lived.
Within a matter of three years, on 11 December, 2013 the Supreme Court overruled the High Court's verdict, reinstating the constitutionality of Section 377.
The Apex Court said that the High Court had erred in its judgement and left it to the Parliament to amend or frame a new law to protect the rights of the queer community. However, again three years after that verdict, today, the Supreme Court gave consent to reexamine its decision during the hearing of a curative petition in the case, giving new hope to the community.
Since the Supreme Court has referred the case to a larger constitutional bench, let's just look at the verdict it chose to undo.
The text of the judgement by AP Shah, despite being overruled by the Supreme Court, remains relevant. From morality, to fundamental rights enshrined in the constitution, this one judgement, perhaps, could be read as the best text on LGBTQ rights in particular, and human rights in general.
Here we reproduce some vital parts of the judgement.
Why popular morality is not ground for retaining Section 377
Popular morality or public disapproval of certain acts is not a valid justification for restriction of the fundamental rights under Article 21. Popular morality, as distinct from aconstitutional morality derived from constitutional values, is based on shifting and subjecting notions of right and wrong. If there is any type of "morality" that can pass the test of compelling state interest, it must be "constitutional"morality and not public morality.
How fundamental rights of the constitution takes care of the sexual minority
The Fundamental Rights, therefore, were to foster the social revolution by creating a society egalitarian to the extent that all citizens were to be equally free from coercion or restriction by the state, or by society privately; liberty was no longer to be the privilege of the few. The Constitution of India recognises, protects and celebrates diversity. To stigmatise or to criminalise homosexuals only on account of their sexual orientation would be against the constitutionalmorality.
Section 377 doesn't take into consideration factors like age and consent
It is evident that the disparate grouping in Section 377 IPC does not take into account relevant factors such as consent, age and the nature of the act or the absence of harm caused to anybody. Public animus and disgust towards a particular social group or vulnerable minority is not a valid ground for classification under Article 14. Section 377 IPC targets the homosexual community as a class and is motivated by an animus towards this vulnerable class of people.
Section 377 has nothing to do with protection of women, children or public health
It is clear that Section 377 IPC, whatever its present pragmatic application, was not enacted keeping in mind instances of child sexual abuse or to fill the lacuna in a rape law. It was based on a conception of sexual morality specific to Victorian era drawing on notions of carnality and sinfulness. In any way, the legislative object of protecting women and children has no bearing in regard to consensual sexual acts between adults in private.
The second legislative purpose elucidated is that Section 377 IPC serves the cause of public health by criminalising the homosexual behaviour. As already held, this purported legislative purpose is in complete contrast to the averments in NACO's affidavit. NACO has specifically stated that enforcement of Section 377 IPC adversely contributes to pushing the infliction underground, make risky sexual practices go unnoticed and unaddressed. Section 377 IPC thus hampers HIV/AIDS prevention efforts.
377 lets the State intrude into the citizen's private space
Lastly, as held earlier, it is not within the constitutional competence of the State to invade the privacy of citizens lives or regulate conduct to which the citizen alone is concerned solely on the basis of public morals.
The criminalisation of private sexual relations between consenting adults absent any evidence of serious harm deems the provision's objective both arbitrary and unreasonable. The state interest "must be legitimate and relevant" for the legislation to be non-arbitrary and must be proportionate towards achieving the state interest. If the objective is irrational, unjust and unfair, necessarily classification will have to be held as unreasonable.
The nature of the provision of Section 377 IPC and its purpose is to criminalise private conduct of consenting adults which causes no harm to anyone else. It has no other purpose than to criminalise conduct which fails to conform with the moral or religious views of a section of society. The discrimination severely affects the rights and interests of homosexuals and deeply impairs their dignity.
Section 377 makes a significant portion of the population criminal
Section 377 IPC is facially neutral and it apparently targets not identities but acts, but in its operation it does end up unfairly targeting a particular community. The fact is that these sexual acts which are criminalised are associated more closely with one class of persons, namely, the homosexuals as a class.
Section 377 IPC has the effect of viewing all gay men as criminals. When everything associated with homosexuality is treated as bent, queer, repugnant, the whole gay and lesbian community is marked with deviance and perversity.
They are subject to extensive prejudice because what they are or what they are perceived to be, not because of what they do. The result is that a significant group of the population is, because of its sexual nonconformity, persecuted, marginalised and turned in on itself.
Source: http://www.lawyerscollective.org/files/Naz%20Foundation%20Judgement.pdf