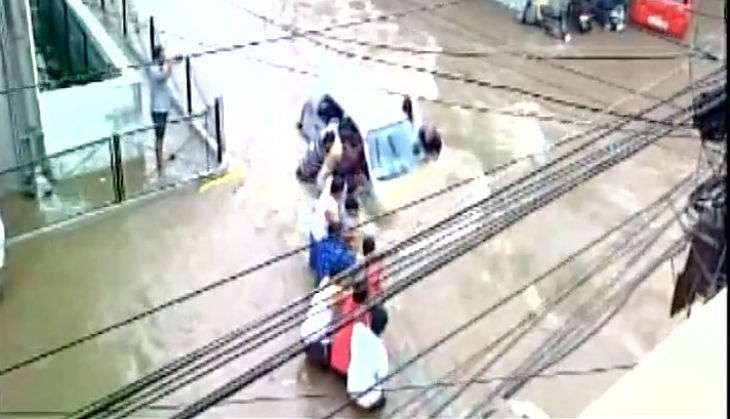 Heavy rainfall in Hyderabad since 20 September has crippled the city as streets are flooded and schools are shut.
This incessant rain has broken a 16-year-old record as Hyderabad received 16.7cm of rain.
According to media reports, Greater Hyderabad Municipal Corporation(GHMC) reported the highest rainfall ever recorded which led to the breaching of lakes, flooding at Qutubullapur and surrounding areas.
Deccan Chronicle quoted GHMC executive engineer R Srinivas Reddy as saying: "There are two records. Usually rainfall is calculated over 24 hours. If the 24-hour rainfall from Tuesday 8.30am to Wednesday 8.30am is taken, then the highest is still the 24 cm rainfall of August 2000. But if we consider the two-hour spell, around 10 cm of rain was recorded at Shapurnagar in Qutubullapur, the highest short spell in city's history."
Water logging in many parts of Hyderabad after heavy rainfall (21.9.16) pic.twitter.com/tplqMfwzrH

— ANI (@ANI_news) September 22, 2016
Water logging in a blind people's school in Begumpet (Hyderabad) after heavy rainfall (21.9.16) pic.twitter.com/wtchE0Sc35

— ANI (@ANI_news) September 22, 2016
IMD-Hyderabad director YK Reddy said that the rain is not because of a cloudburst. Reddy further added that flooding across Qutubullapur and surrounding areas was due to non-availability of nalas and because these were low-lying areas. Nizampet, Malkajgiri and Serilingampally, among many others, which are flooded heavily due to over-flowing lakes, nalas and storm-water drains gushed into their homes
"In Bowenapally there was no water logging. So the elevated areas were not inundated," Reddy told the Deccan Chronicle.
According to a report in Times of India, there have been cases of wall collapse in Srinivasa Housing Society in Nizampet and RTC Colony in Miyapur.
There have also been complaints of prolonged power cuts and shortage of drinking water from several localities, with some ruing no water supply for over 13 hours.