Somi Das
| Updated on: 14 February 2017, 2:40 IST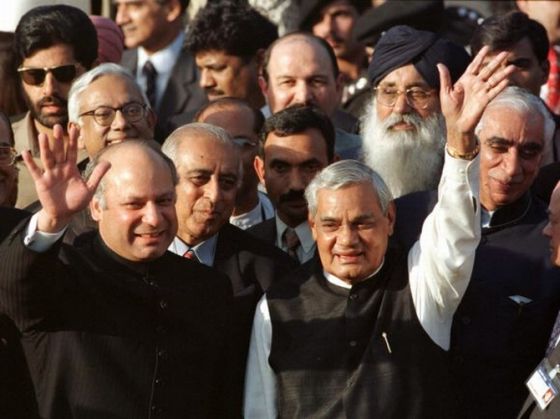 In a first, an Indian prime minister is making a sudden day-long trip to Lahore, to wish his Pakistani counterpart on his happy birthday.
This is also the first visit by any Indian PM to the neighbouring state in the last 12 years.
As we try to make sense of Prime Minister Narendra Modi's decision to fly to Lahore and wish Nawaz Sharif, we must remember that today is also former Prime Minister Atal Bihari Vajpayee's birthday.
Vajpayee's first attempt at reaching out to Pakistan
One of the brightest spots of Vajpayee's tenure was that peace talks with Pakistan were resumed then. By choosing to visit Pakistan on Vajpayee's birthday, Modi pays a befitting tribute to the former PM's initiative. Nawaz Sharif was Pakistan's Prime Minister then.
Vajpyaee ushered in a new era of friendship between the two countries with the inauguration of the Delhi-Lahore bus service. He travelled to Pakistan on the bus on its inaugural run in February 1999.
Then came the signing of the Lahore declaration in a highly publicised press conference, under which both countries committed to desist using nuclear weapons against each other. The bonhomie came in the aftermath of both the countries testing nuclear weapons. Unfortunately, this peace didn't have a long run.
The Agra-summit debacle
In May 1999, India and Pakistan were at loggerheads again,with the Kargil war. For the next two years, anti-Pakistan rhetoric ruled the roost. However, another u-turn was in the offing. In 2001, right after Pakistan had a military dictator as the Head of State, Vajpayee invited him to India.
With the Taj Mahal as the pristine background, Vajpayee tried to make Pervez Musharraf''s visit a media spectacle. However, the talks didn't go as planned. And it ended as the biggest debacle India has ever seen in terms of foreign policy. Musharraf gave a cold shoulder to Vajpayee, scoring points back home. Additionally, there was no joint statement signed, despite India's keen interest.
Even in the face of these failures, Vajpayee, till date, is credited for reestablishing peace dialogues between India and Pakistan.
Now it remains to be seen how Modi takes that legacy forward. Perhaps today's gesture will mark the cliched "new beginning" in a substantial manner.