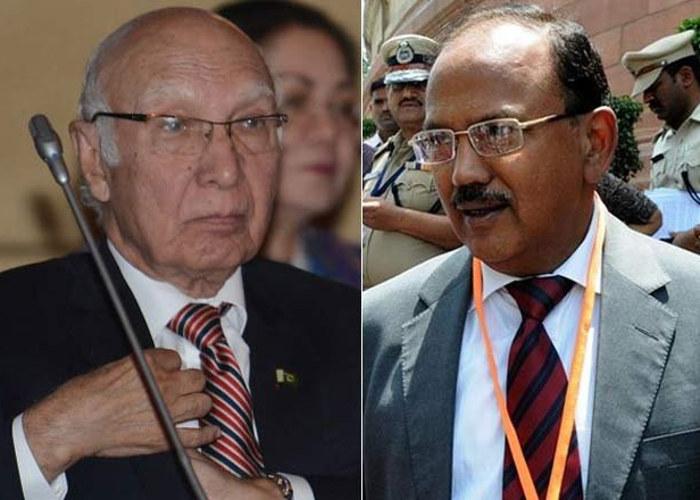 It was a question of who blinked first, and as it happened, both India and Pakistan lost.
Confusion and ad-hocism was driving diplomacy between the two countries for the last 48 hours, which has now resulted in breakdown of NSA level talks.
Both the issues that Pakistan raked up - Kashmir and Hurriyat - were quite predictable. India didn't seem to know how to deal with Hurriyat or to respond to Pakistan's insistence on including Kashmir in the agenda of NSAs' meeting.
Instead of anticipating well-known gauntlets that Pakistan has thrown in India's way every time the two countries have agreed to talk, our government seemed to be acting on impulses.
The intransigence to Pakistan's sudden realisation that Kashmir is missing from NSA agenda; detaining, releasing, and detaining Kashmiri separatists again, and so on.
Unlike UPA, BJP is better placed to deal with Pakistan because Modi government doesn't have to look over its shoulder for support in the Parliament. Talks with Pakistan held right now could have made real progress, but India clearly lost the plot within the last 48 hours.
Simmering tensions between the two countries reached boiling point on Friday morning over Pakistan's demand to meet Kashmiri separatists, which India flatly refused to humour.
Pakistan's NSA Sartaj Aziz responded in a belligerent tone, remarking that he wouldn't take "dictation from India" on whom to talk with and whom not to talk with in the context of his proposed meeting with the Hurriyat.
India's reply, through its foreign affairs spokesperson, late evening on Friday finally ended all hopes of the immediate NSA level talks.
The Congress has been poking fun at the diplomatic fiasco, saying that the NSA level talks were reduced to a Pak-Hurriyat fiasco.
Kashmir was the other issue on which both countries wouldn't budge.
There was no mention of Kashmir in the agreement that had been signed by the heads of the two governments in Ufa last month. But Pakistan suddenly sprang a surprise by insisting on making Kashmir part of the agenda of the NSA level talks.
Pakistan used the little elbow room in the Ufa agreement provided by the statement that 'all outstanding issues' would be discussed, by arguing that Kashmir is one of them.
Did the seasoned experts in the Indian foreign affairs ministry really not expect Pakistan to bring Kashmir up before the talks? Could such a demand from the neighbour, meant to placate their opposition back home, not be foreseen?
These talks were important first steps in a longer peace process of meetings between the two countries.
Even Prime Minister Narendra Modi's proposed visit to Pakistan next year, from which much was expected, could now be reconsidered.
Neither India nor Pakistan want to be seen in the world as being against talks. But breaking down of the dialogue process will now be counted as a major failure for India, as much for Pakistan.
Noble intentions of only willing to sit down and talk don't count. This time India needed to find better responses to Pakistan's googlies.