Somi Das
| Updated on: 14 February 2017, 5:14 IST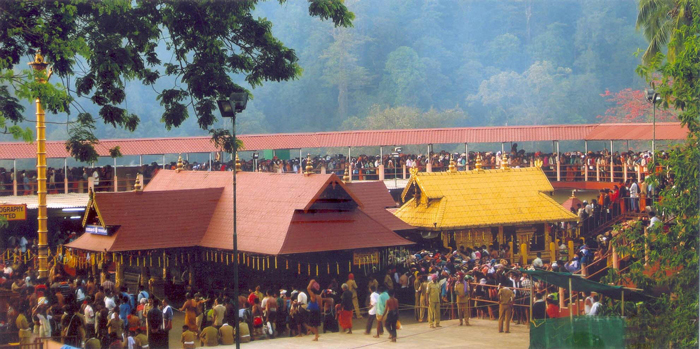 The Supreme Court today, questioned the right of the Sabarimala Temple to bar women between the age groups of 10-50 from entering the temple premises.
Hearing a petition filed by the Indian Young Lawyers Association, the apex court told the Travancore Devaswom Board, which manages the Sabarimala Temple, that it has no constitutional authority to stop women from entering the temple. Although a final verdict on the case is awaited, the Court's observation has sparked off some divided and stark opinions on the issue.
Social media was abuzz with varied opinions on the issue. Many held the view that the the Court's observation would go a long way in ensuring gender justice and in ending menstruation taboos. Traditionally, women are not allowed to enter temple premises while they menstruating.
Judiciary has held the guard for women rights, even when regressive religious practices are pitched against it. #Sabarimala proved again

- Maitridevi Sisodia (@MaitriSisodia) January 11, 2016
Unquestioning acceptance of tradition is not in the spirit of Hinduness. We can't keep justifying casteism, misogyny. #Sabarimala

- Abhijit Majumder (@abhijitmajumder) January 11, 2016
But for others, it was a matter of religious freedom for devotees of the Lord Ayappa, who is the residing deity of the temple.
Ayyappa legend in Sabarimala says, he is a Nitya Brahmachari, hence restriction. Court should not force against temple's historic customs.

- Kiran Kumar S (@KiranKS) January 11, 2016
Judicial overreach reg women's entry at #sabarimala - one more blow against Hindu control of temples. See table: pic.twitter.com/pBbep39kBR

- Amar Govindarajan (@amargov) January 11, 2016
.
We spoke to Rahul Eashwar, the grandson of Kandararu Maheshwararu, senior supreme priest of Sabarimala, the hill shrine of Lord Ayappa, to understand why the temple authorities have continued with the practice which is considered regressive and anti-women.
What is the background of the case?
Around eight years back there was a controversy regarding Srimati Jayamala where she had claimed that she touched the Lord Ayyappa idol in Sabarimala. Barkha Dutt then wrote an article on it in Hindustan Times which later became the basis of this case. These are the facts of the case.
How do you justify the ban on a woman's entry?
It has been a traction there for thousand of years. Our point is simple. There is a difference between differentiation and discrimination. There is no discrimination in not letting women inside Sabarimala temple. Thousands of women visit Sabarimala every year. Only women between 10-50 years are not allowed. Every temple is based on a unique concept.
Second, the major concept of the temple is brahmacharya or celibacy. That's the main reason why women are not allowed.
Third and the last point is that whenever there has been a clash between Article 40 and Article 25, right to religion and right to equality, Supreme Court has always sided with Article 25 as a superficial argument of differentiation cannot be reason enough to curtail someone's right to religion.
But don't you think by banning women, you are infringing upon a woman's right to religion?
No. I can counter that. Doesn't it infringe upon my right to be not able to participate in Pongala festival in which only women can participate and not men. There is nari puja there. Can I go and participate there?
What if the Supreme Court rules against you and allows the entry of women in Sabarimala?
I hope the Supreme Court will be culturally sensitive.