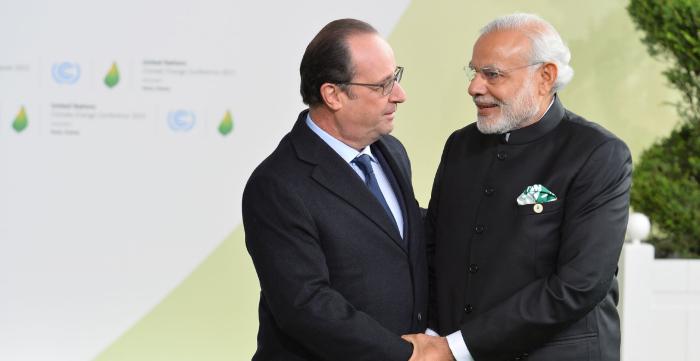 French President Francois Hollande will on Sunday commence his three-day India visit from Chandigarh where he, along with Prime Minister Narendra Modi, will attend a business summit and visit various landmarks.
Heavy security measures have been put in place in the city, where the two premiers will attend the India-France Business Summit. Also in attendance will be corporate leaders of the two nations. Accompanied by a high-level delegation, Hollande will land at around 1 pm in Chandigarh, which was designed by Swiss-French architect Charles-Edouard Jeanneret-Gris, also known as Le Corbusier, between the 1950s and 1960s.
He will be accompanied by PM Modi during his visit to Rock Garden, Capitol Complex, and the government museum and art gallery. The two leaders will spend about 15 minutes at each of the three sites, before reaching a private hotel for the business meet, officials said.
Later in the evening, Modi and Hollande will fly separately to Delhi. Hollande will, on Tuesday, attend the Republic Day parade as the Chief Guest and hold talks with Modi, during which ways to strengthen counter-terror cooperation in the aftermath of Paris and Pathankot terror strikes will figure prominently.
During the visit, France is likely to sign a memorandum of understanding (MoU) with Chandigarh to help it develop as a smart city, official sources said. Last year, France had committed to help three Indian cities - Chandigarh, Nagpur and Puducherry. Chandigarh is competing to make it to the list of first 20 cities to be picked by the Ministry of Urban Development for funding in the year 2016-17 under the Smart City project.
The two leaders will then attend a forum of select CEOs to be followed by the India-France Business Summit at a private hotel, as per the schedule.
(Text by PTI)