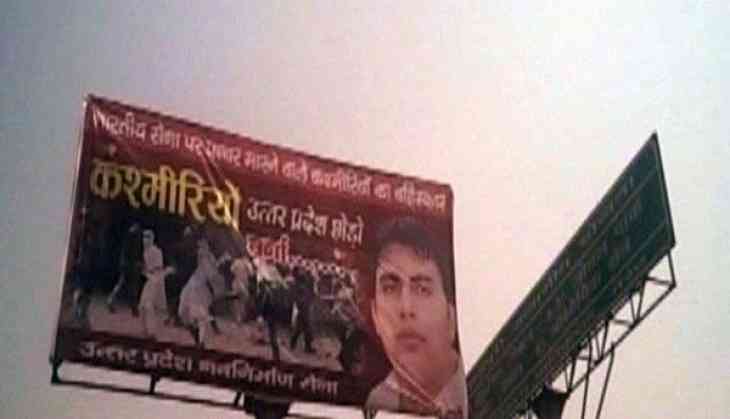 Hoardings asking Kashmiris to leave UP appear in Meerut (ANI)
In the wake of incidents of stone pelting on security forces in Jammu and Kashmir, a banners calling for boycott of Kashmiris and asking them to leave Uttar Pradesh have come up in Meerut.
"Boycott those Kashmiris who pelt stones at Indian Army. Kashmiris leave UP or...," the banner reads.
This comes after Union Home Minister Rajnath Singh earlier in the day appealed to all the states to ensure the safety of the Kashmiris.
"Last evening I got to know that some Kashmiri youth have been mistreated. I appeal to all the Chief Ministers to ensure that no Kashmiri youth is mistreated in any part of the nation. Even they are part of India. No one can rubbish this truth that many people from Kashmir are contributing to India's safety and prosperity," Singh told ANI.
He said he has asked the Home Ministry to immediately circulate an advisory to all states in this regard.
"The incident is extremely unfortunate and I condemn it. Strict action will be taken against anyone who mistreats any Kashmiri youth. I appeal to all the youth to consider them as their brother. They are citizens of our country and part of our family. The people should understand this reality," he added.
At least eight Kashmiri students, studying at Rajasthan's Mewar University were allegedly beaten up by the locals as they were upset over soldiers being targeted by stone pelters in the strife-torn border state.
-ANI