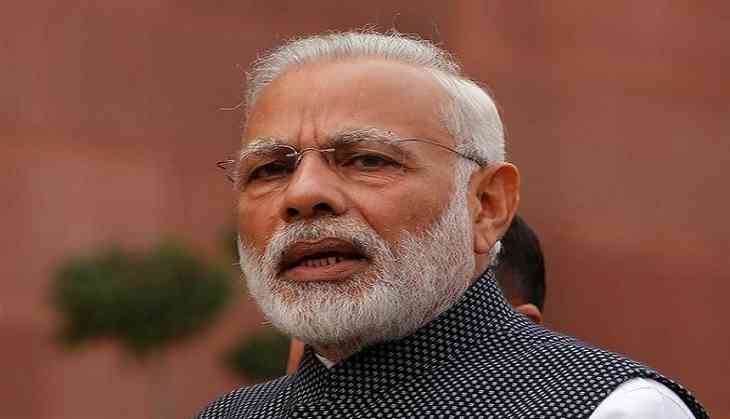 Here's how twitterati trolled PM Modi for his missing punctuation mark in the tweet (twitter)
Twitter is one of a largest social platform for the famous personalities to share their latest activity and updates with their fans and followers. Just like others, it also stands on top for Prime Minister to convey his points and future move with the nation. However, the hurriedness to tweet asap ends up with making blunders.
Recently, Prime Minister Modi gave a powerful speech in the Rajya Sabha and gave his party- members innumerable moments of table-banging. During his speech in Rajya Sabha, he didn't lose a chance to dig into Congress and its policies.
PM Modi's call on Congress MP, Renuka Chaudhury, and her Hysterical launch gave butterflies in the stomach of his party members and to the netizens. However, this time PM Modi once gave us a giggling moment not with his humorous speech but with his tweet.
The tweet that the PMO India handle tweeted to ensure the quality healthcare for the poor didn't come out the way it was intended.
"Let us work together in providing the poor quality and affordable health care: PM," the PMO India Tweeted.
Let us work together in providing the poor quality and affordable healthcare: PM @narendramodi https://t.co/1qKFcSzd6v

— PMO India (@PMOIndia) February 7, 2018
This Tweet that means of providing a quality and affordable healthcare to poor ended up changing the entire meaning into a poor quality and affordable healthcare. Whoever wrote this tweet, missed a comma ',' between 'poor' and 'quality', hence changed the entire meaning of the statement.
The single slip of punctuation marks gave a giggling moment to twitterati and without wasting single moment they came up with the meaning of the tweet. see for yourself how Twitterati trolled PM Modi.
Poor quality and affordable healthcare?! Not surprising at all. #PakodaEffect #PakodaGormint

— Benlita Pinto (@BenlitaPinto) February 7, 2018
Hahaha.... True... Yahi woh pm Hai Jo pakora talne ka suggestion de sakta hai

— Jagmohan Kanwal (@KanwalJagmohan) February 8, 2018
Perhaps another gem from the books of M.A (Entire) political science syllabus.https://t.co/s8An8wfWGD

— क्रूर सिंह😈 (@yakku_kroorsing) February 8, 2018
Who is the handler of this Twitter account? I am sure, the PM himself handling this account.#PakodaGormint #ModiTumseNaHoPayega pic.twitter.com/PwgiwzGrQY

— Pervez M (@PervezM) February 8, 2018
बेइज़्ज़ती से इनका बचपन का रिश्ता है।

वैसे बेइज़्ज़ती से याद आया#busekaursaal

बचा है
☺#ModiTumseNaHoPayega

— Pervez M (@PervezM) February 8, 2018
बेइज़्ज़ती से इनका बचपन का रिश्ता है।

वैसे बेइज़्ज़ती से याद आया#busekaursaal

बचा है
☺#ModiTumseNaHoPayega

— Pervez M (@PervezM) February 8, 2018
We Are Ready To Work Together In Providing HIGH Quality But Affordable Healthcare To The Poor & Needy, NOT 'Poor Quality' Healthcare.

Get The #NMCBill With Bridge Course Passed ASAP For Drawing The Fullest Advantage Of Ayush Doctors In Making Of #AyushmanBharat #SwasthaBharat 🙏

— Mafuzur Rahman (@DrMafuzur) February 9, 2018