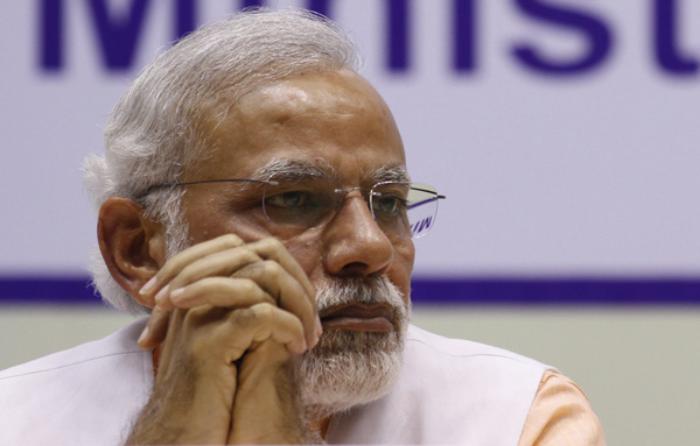 If an RTI application filed back in 2014 is to be believed, Narendra Modi is the 11th highest paid world leader.
The Indian Prime Minister earns Rs 19 lakhs per annum, which actually puts him ahead of the Chinese premier Xi Jinping who gets $22,000, which is about Rs 14 lakh. (India China comparison enthusiasts can beam at this point.)
With over a Rs 1.5 lakh salary, it comes across as no surprise then that our dapper PM sports the very best suits. And Burberry scarves. And jackets. And those royal paghdis.
Now to our delight, the Prime Minister's Office has released latest details of his assets. And as it turns out, Modi's total assets have gone up to Rs 1.41 crore.
This, interestingly, doesn't come from his savings and careful investment as PM though. The crorepati title gained by Modi can be attributed to a residential property in Gandhinagar that has appreciated by more than 25 times in the 13 years that he has owned one-fourth of it.
But that doesn't mean our PM isn't prospering. According to the aforementioned data, the total value of Modi's movable and immovable assets at the end of the last fiscal has grown from Rs 1,26,12,288 to Rs 1,41,14,893 as on March 31, 2015.
Still not that much though.
So where does our PM's money go?
Let's start with the cool stuff one must be entitled to as the head of a nation that Modi, oddly, doesn't have.
1. No 'motor vehicles/aircraft/yachts/ships' are owned by Modi. (All chances of surprise candelight dinners lost.)
2. No loans. (Cool beans. So it isn't just my bank then.)
3. No bank account in Delhi. (What. Even I have two of those.)
Yeah, turns out our PM only trusts his good old Gujarati banks.
So what does he put in these Gujju banks?
1. Very little savings
The PM's bank balance as on August 18, 2014 was Rs 1.32 lakh. Which is strange considering the Rs 19 lakh per annum situation.
2. And an insured life
Modi's investments include L&T Infra Bonds (Tax Saving) worth Rs 20,000. He also has National Savings Certificates worth about Rs 5.45 lakh and life insurance policies worth Rs 1.99 lakh. This makes the total value of his movable assets Rs 41.15 lakh. Sweet.
3. Also, gold
Modi's jewellery holdings include "four pieces of gold rings". (That all?) The rings weigh about 45 grams with a value of about Rs 1.19 lakh as on March 31, 2015.
Sadly for Modi, the value of these rings have come down from Rs 1.21 lakh since last disclosure on August 18, 2014.
4. Plus the actual savings
Yes we've all thought of FDs for tax saving purposes. But the PM nails it with over Rs 17 lakh in his bank FDR.
Good idea to put most of our salaries in FDs then? Wait, no, there are bills to pay.
And now, for the most amusing (and useless) part of this PMO disclosure: How much petty cash (or 'cash in hand') does the Prime Minister have on his person?
Rs 4,700.
Yeah, you can feel good about your life now.
-- With PTI inputs