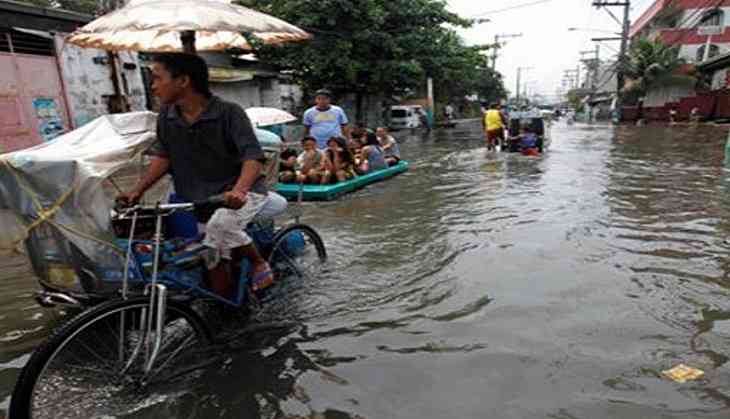 The Nambul river and Imphal river breached its banks and overflowed near Sagolband Moirang Leirak, Kairang and Chabung Company, Mayang Imphal due to incessant rains in the past few days, flooding houses located nearby.
The most severely affected area is at Mayang Imphal area and its neighbouring villages, as the Imphal River bank breached around 12.30 p.m., when the first slippage of water is being seen around 10.30 a.m.
The volume and force has breached by breaking the retailing wall of the river at Chabung Company near Goddess Wangbren temple.
The breached got wider nearly around 70 feet, thereby resulting the inflow of huge water volume which has nearly started submerging around 200 houses in the vicinity of Mayang Imphal and neighbouring villages.
The river water has also started submerging around 1500 acres of paddy field including several fish farms.
The flood water is still rising so fast that the compound of Prabhavati College and Tongou Higher Secondary School has been flooded and started over flooding the Mayai Lambi Road.
Hectic efforts are still continuing to prevent the water flow and block the breached are by the concerned department officials and villagers.
Many areas in the vicinity of Uripok, Sagolband are also inundated by overflowing water from Nambul as also many parts of the city.
In a late night development yesterday, Imphal river breached its banks at the Minuthong area and the North AOC area has also become innundated. It has been reported that the rainfall at Kangpokpi was 35 mm and by evening Imphal recorded 22 mm.
Most of the water levels of Imphal river and Nambul river have crossed their flashpoints due to the rains. It has also been reported that the Ithai Barrage floodgate which has 5 gates has been opened but as yet gate numbers 2 and 3 are being partially opened. Even with this measure, water level is still getting higher every moment, Liaquat added.
The 'flash flood' caused by irregularities in the rate of water flow due to mass deforestations in the hill areas and improper garbage management in the valley.
-ANI