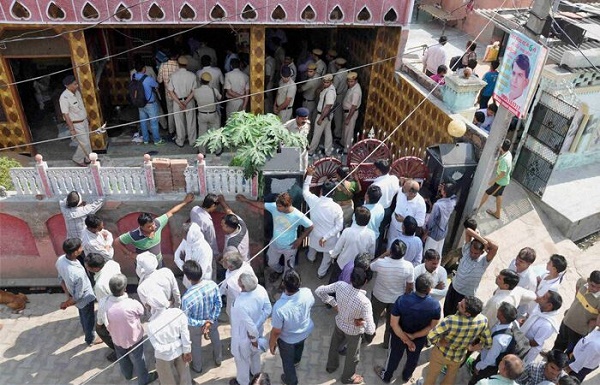 The Haryana Government on Wednesday, 21 October, recommended a CBI probe into the burning alive of a Dalit family which resulted in the death of two toddlers at a village in Faridabad district yesterday. "Chief Minister Manohar Lal Khattar has recommended a CBI probe in the incident. A SIT has also been formed which is headed by Deputy Commissioner of Police, Puran Chand," Khattar's media advisor, Amit Arya said.
He also said four accused in the case have been arrested so far. The government has announced Rs 10 lakh and a job to the victims' family, he said.
Arya said the Chief Minister would visit the village tomorrow and meet the bereaved family.
"He had planned to go today, but now he will be going tomorrow," Arya said. The Special Investigating Team (SIT) of the state police will probe the case before CBI takes it over, police sources said. Once the CBI probe gets notified, the investigation details will be handed over to them as per procedure.
Haryana DGP Y P Singal said the situation in the Sanped village was under control and the Dalit family had agreed to conduct the last rites of the two toddlers. "They tried to block the National Highway (in Faridabad), but we made them understand that this will put thousands of commuters to inconvenience. Then they protested with the bodies on the outer road. However, after persuasion, they agreed to conduct the last rites," Singal said. He said the Officer In-charge Ballabgarh Police station Anil Kumar and seven other policemen have been suspended for dereliction of duty in connection with the incident.
Singhal said the incident, according to investigations so far, was the result of enmity between Dalit and the Rajput families of the village. Haryana's Additional Director General of Police (law and order) Mohammed Akil said the situation was peaceful now.
"The situation is under control and peaceful now," he said.
The situation is being closely monitored by the state police chief and other senior officials.
-PTI