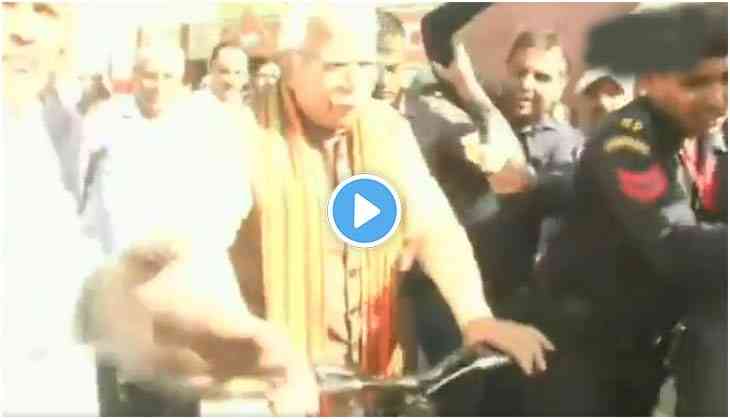 The voting for assembly elections in Haryana has begun on Monday at 7 am. Chief Minister of Haryana Manohar Lal Khattar took a cycle ride to reach the polling booth in Karnal.
#WATCH Karnal: Haryana Chief Minister Manohar Lal Khattar rides a cycle to the polling booth. #HaryanaAssemblyPolls pic.twitter.com/NMUqTvfYJF

— ANI (@ANI) October 21, 2019
Also, Manohar Lal Khattar traveled by Shatabdi Express from Chandigarh to his hometown Karnal in Haryana to cast his vote.
Had a lively interaction with my co-passengers during my journey to Karnal to cast my vote! pic.twitter.com/dPqKdjbp1z

— Manohar Lal (@mlkhattar) October 21, 2019
Khattar also took to Twitter and wrote, "First vote then refreshment. I am going to cast my vote."
"I humbly request all citizens of the state that you too must exercise the franchise by visiting your polling station. Your one vote is crucial to form a strong government," Khattar added.
आज करनाल, प्रेमनगर में राजकीय कन्या स्कूल में बने मतदान केंद्र में जाकर अपने मताधिकार का प्रयोग किया।

प्रदेश के सभी मतदाताओं से निवेदन है कि लोकतंत्र के इस पर्व में अपने कर्तव्य का निर्वहन करें और सुखी व समृद्ध हरियाणा के लिए मतदान करें।#HaryanaAssemblyPolls pic.twitter.com/EoLhAOQWua

— Manohar Lal (@mlkhattar) October 21, 2019
In Harayana, there will be a contest between the BJP, the Congress and the Jannayak Janata Party for 90 seats.
In 2014, Khattar had won seats from Karnal with a margin of over 60,000 votes.
Congress has fielded Trilochan Singh, former Chairperson of the Haryana Minority Commission, against ML Khattar.
Candidates who will fight against Khattar in Haryana assembly elections are the former CM and Congress Legislative Party leader Bhupinder Singh Hooda (Garhi Sampla-Kiloi), Randeep Singh Surjewala (Kaithal), Kiran Choudhary (Tosham) and Kuldeep Bishnoi (Adampur) and JJP's Dushyant Chautala (Uchana Kalan).
The voting in Harayana will conclude at 6:00 pm. While the counting of votes will be held on October 24.
Also Read: Haryana, Maharashtra Assembly Elections 2019: Here's how voters can check their names in voter list via online mode