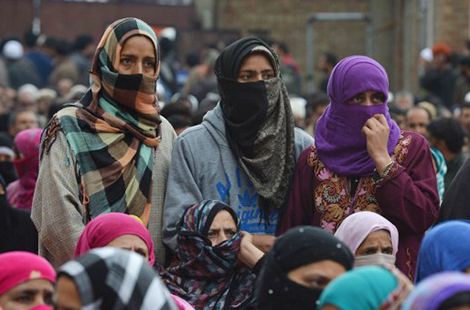 The girl who was allegedly molested by an Army man at Handwara, Kashmir, has been in the custody of the Jammu and Kashmir Police since the incident occurred on Tuesday, 12 April.
The incident led to violent protests in Handwara, and subsequent firing by the Army and police that killed four people.
The girl had been taken to the police station soon after the protests began on Tuesday, and purportedly recorded a video statement in which she said her assailant had not been from the Army. The video soon went viral.
Both the girl and her father are in protective custody, said Uttam Chand, DIG for North
The Indian Express
. "Yes, they are in our custody. They are in protective custody," he said. He added that he was not aware whether the video had been recorded in the police station.
Srinagar-based human rights group Jammu and Kashmir Coalition of Civil Society issued a statement on Thursday, demanding the immediate release of the girl and her father. "We have been approached by the family of the minor girl for legal counsel and other support," said Khurram Parvez, coordinator of the group.
"The family states that the girl has been kept in police custody since 12 April. Last night, around 1 am, her father was called to the Handwara police station. He was accompanied by his brother. Since then his whereabouts are not known. The family has been denied access to both the minor girl and her father," said Parvez.
The group says that this detention is meant to protect the armed forces. It argued that if the police wanted to protect the girl, the protection must be "provided at the residence of the victim" and not at the police station.
"The manner in which the video has been recorded and then circulated is a gross violation of the special protection afforded to minors, particularly during investigation of sexual assault cases," said Parvez. "The actions of the police and the Army would necessarily invite criminal prosecution if investigated."