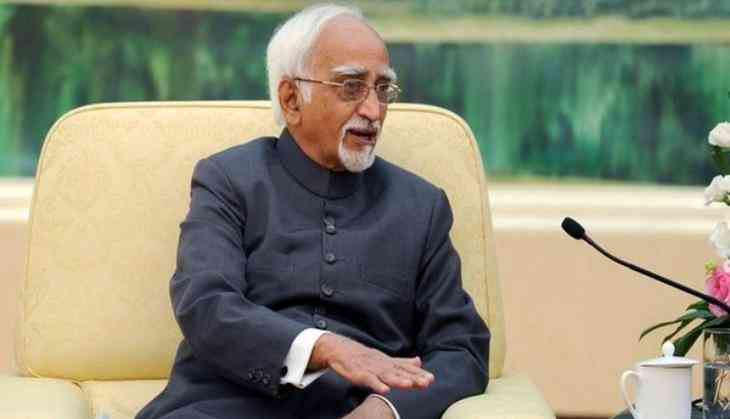 The Bharatiya Janata Party (BJP) on Thursday said outgoing Vice President Hamid Ansari is playing politics by making remarks on sensitive issues.
Ansari on Wednesday said that the Muslims in the country were experiencing a "feeling of unease."
The BJP said that there is no better country than India for Muslims and Ansari should check the facts as in which government Muslims felt more insecure.
BJP leader Meenakshi Lekhi told ANI that "the time at which he had made these statements shows his intentions. When he was on chair he said nothing about these issues but now at the time of leaving he is doing politics. He wants to try his hand in politics now. He must read first during which government Muslims were more insecure".
She further said that Ansari is disrespecting the position he held.
"I thought he is wise and intelligent but whatever statement he gave was not apt. He doesn't have any information about anything. He will have to read those text books first," Lekhi added.
Meanwhile, Congress leader Shashi Tharoor said that Muslims in India should be made to feel secure as they are living in fear and insecurity.
"We are saying this from last three years that the kind of environment prevailing in India is not apt for the people. In India murder, lynching and numerous such issues are taking place. Muslims are not safe in India. Dadri lynching was immensely horrific for the entire nation. We all should be able to feel safe and secure. There should be no insecurity among the masses," said Tharoor.
The Congress leader further said that Hamid Ansari had come from diplomacy and not from politics, adding the BJP should not make remarks over his recent statement.
In his last interview on Wednesday, before demitting the office, Ansari said that the Muslims in the country were experiencing a "feeling of unease."
"A sense of insecurity is creeping in as a result of the dominant mood created by some and the resultant intolerance and vigilantism," Ansari said, in an interview to Rajya Sabha TV.
He referred to incidents of lynching and alleged killings as a "breakdown of Indian values, breakdown of the ability of the authorities at different levels in different places to be able to enforce what should be normal law enforcing work and over all the very fact that Indianness of any citizen being questioned is a disturbing thought."
Earlier in the day, in his last address as the Vice-President, Hamid Ansari on Thursday said that democracy would turn into tyranny, if opposition groups are not given the right to free criticism, adding that a democracy is distinguished by the protection it gives to minority.
Ansari called an end to his 10-year stint as the Rajya Sabha Chairman with an Urdu couplet, "Aao ki aaj khatm karein daastaan-e-ishq, abb khatm-e-ashiqui ke fasaane sunayein hum." (Let's now end our love story, we will now tell the story of end of our love affair.)
-ANI