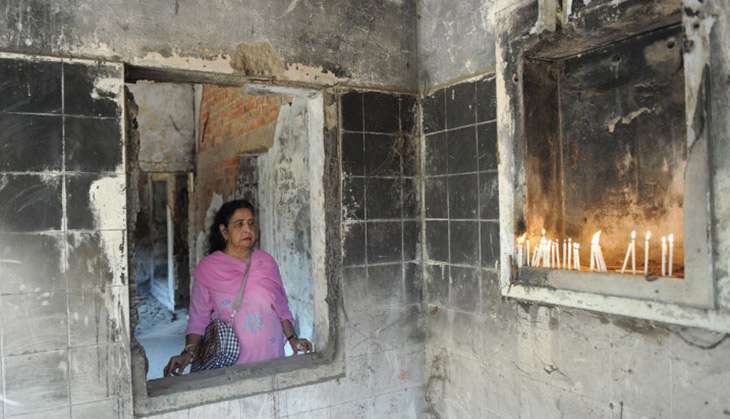 On 2 June, an Ahmedabad court pronounced its verdict in connection with the Gulberg Society riots and convicted 24 people. The court has charged 11 of the accused with murder under Indian Penal Code section 302, while acquitting 36 - including BJP corporator Bipin Patel - in the case.
The 2002 riots had claimed the lives of 69 people, including former Congress MP Ehsan Jafri. The massacre took place a day after a train carrying Karsevaks was burnt down near Godhra.
Zakia Jafri, wife of the Congress lawmaker who was killed in the massacre, termed the acquittal of 36 people is unfortunate. Saying that complete Justice has not been done, she demanded to know why the BJP corporator had been let off? She has pledged that her fight for justice will go on.
Here is a time-line of the Gulberg Society case:
February 2002: In the backdrop of the 2002 Gujarat riots, a violent Hindu mob attacked the Gulberg Society in Ahmedabad. Records say that houses were torched and at least 35 people were burnt alive.
November 2007: A petition by Zakia Jafri seeking court directives to lodge an FIR against then-Gujarat CM Narendra Modi and 62 others was turned down.
March 2008: The Supreme Court directed the Gujarat government to set up a Special Investigation Team to investigate into the Godhra and Post-Godhra riots. The SIT was asked to investigate the incidents that occurred in Godhra, Sardarpura, Gulberg Society, Ode, Naroda Gaon, Naroda Patiya, Deepla Darwaza and the one involving British nationals.
September 2009: Trial begins a full seven years after the crime.
March 2010: Special Prosecutor and Assistant resign in the case. Investigation put on hold.
August 2010: TheSupreme Court permitted an investigation into the role of CM Narendra Modi and 62 others in orchestrating the riots.
September 2010: According to the Supreme Court-appointed Special Investigative Team (SIT), possession of lethal weapons, swords, lathis, kerosene and petrol by the mob was testimony to the fact that most of the victims were burnt alive.
February 2012: The SIT stated that there was no prosecutable evidence against Chief Minister Modi. Modi gets clean chit.
December 2013: The Ahmedabad metropolitan court rejects petitions of Zakia Jafri against the clean chit given to Modi
November 2014: Trial resumes. The Supreme Court directs that the trial be concluded in three months.
August 2015: Extension granted to complete trial.
September 2015: Trial ends. Judgement awaited.
June 2016: Verdict announced.