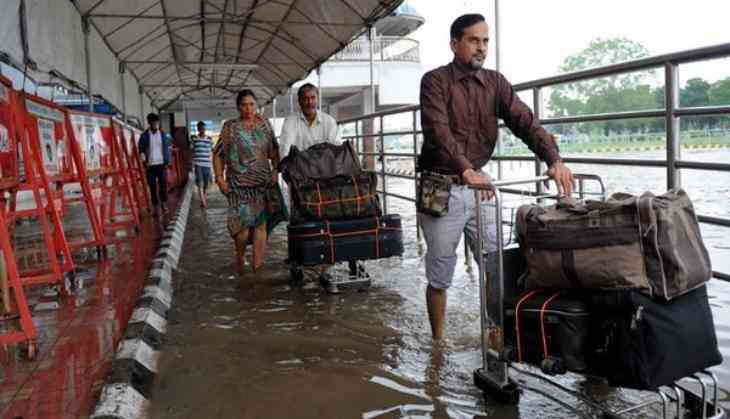 Gujarat floods: Ahmedabad Airport runway damaged, two AI flights diverted
Due to the torrential rains which have caused major floods in Gujarat, the runway of the Ahmedabad Airport has been damaged, resulting in two Air India flights being diverted. Del-Ahmedabad and Bom-Ahmedabad have been diverted to Mumbai following the runway not functioning.
Heavy rains in Gujarat in the past few weeks have created havoc in the state due to flooding in several parts of the state.
Prime Minister Narendra Modi on Tuesday conducted an aerial survey of the flood affected areas in Gujarat.
Gujarat Chief Minister Vijay Rupani called on the Prime Minister at the Parliament House yesterday morning and apprised him of the situation arising out of the heavy rains and flood in parts of the state.
The Prime Minister then decided to undertake an aerial survey of the flood affected areas of north Gujarat, the PMO said.
According to reports, seventy people have died in Gujarat due to rains till now. As many as 25,000 people were shifted, mostly in Banaskantha, as the district witnessed its worst floods in recent years on Monday.
The Army and Air Force reached the flood-hit Deesa of Banaskantha district for rescue operations. The Army, IAF, NDRF and local teams have intensified rescue and relief operations as several parts of the two districts were inundated with flood water.
The states of Gujarat and Rajasthan were affected by severe flooding this month, with two people being killed in Rajasthan and forcing Gujarat to declare a high alert.
-ANI