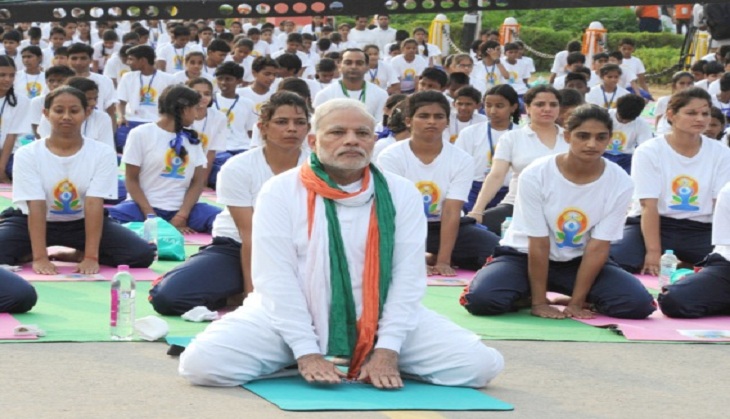 A government advisory to begin yoga asanas on 21 June, the International Day of Yoga, with the 'Om' chant followed by shlokas, has angered Opposition parties who have accused the government of pushing a "sectarian agenda".
The government's Common Yoga Protocol for 21 June says that yoga exercises should begin with a prayer that includes the chanting of 'Om' three times at the start, and 'Om shantih shantih shantih' at the end. A video accompanying the protocol shows the prayer beginning with 'Om' but omitting the 'Om shantih, shantih, shantih', according to The Indian Express.
The document is on the websites of the University Grants Commission and the Ministry of External Affairs.
Though the document is merely an advisory, not a compulsion, Opposition parties reacted strongly. The JD(U)'s KC Tyagi said: "I am a Hindu and I follow Vedic traditions. Therefore, I personally have no problem in chanting 'Om'. But it must not be foisted on people belonging to other faiths. Ours is a secular Constitution. If the BJP wants to push its sectarian agenda, it should declare India a theocratic state."
The Congress reacted even more strongly. Congress spokesperson PC Chacko said: "Yoga is an ancient Indian knowledge. It is not a discovery of the BJP government. It has nothing to do with BJP. It should be made acceptable to the general public. Some sections of the people may have reservations in chanting 'Om'... They are propagating yoga with an ulterior motive. Whatever is not acceptable to everyone must not be pushed through."