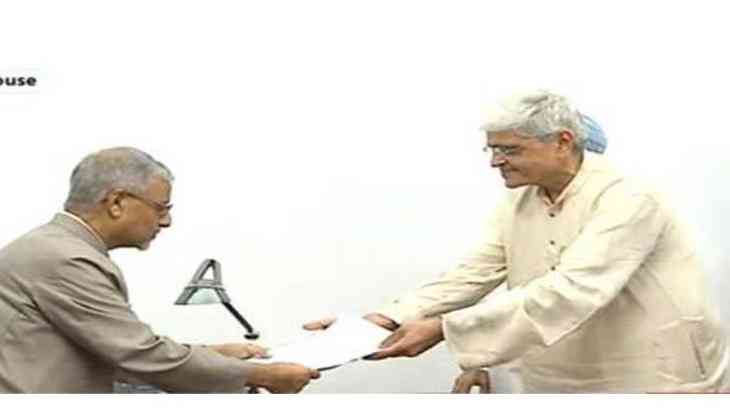 Opposition's Vice Presidential candidate GopalKrishna Gandhi on 18 July filed his nomination to be the 13th Vice President of India in the Parliament House.
Gandhi was accompanied by Congress President Sonia Gandhi, party vice president Rahul Gandhi, former Prime Minister Manmohan Singh and other eminent leaders of various political parties.
India will go on poll on 5 August to elect its new Vice President.
Earlier in the day, National Democratic Alliance (NDA), Vice Presidential Candidate M. Venkaiah Naidu also filed his nomination for the post.
Naidu was accompanied by Prime Minister Narendra Modi, Bharatiya Janata Party (BJP) chief Amit Shah, External Affairs Minister Sushma Swaraj, veteran leader L.K. Advani, Murli Manohar Joshi and other NDA leaders while filing his nomination in the Parliament House.
Meanwhile, Odisha Chief Minister and Biju Janata Dal (BJD) supremo Naveen Pattnaik extended his support for Gopalkrishna Gandhi.
"I extend my support to Gopalkrishna Gandhi for Vice-Presidential elections," Pattnaik told media.
Gandhi said he has accepted the request with a sense of gratitude and responsibility.
Gopalkrishna, the grandson of Mahatma Gandhi said a total of 18 opposition parties asked him to be their presidential candidate.
The term of Vice President Hamid Ansari, who is also ex-officio Chairman of the Rajya Sabha, ends on 10 August.
-ANI