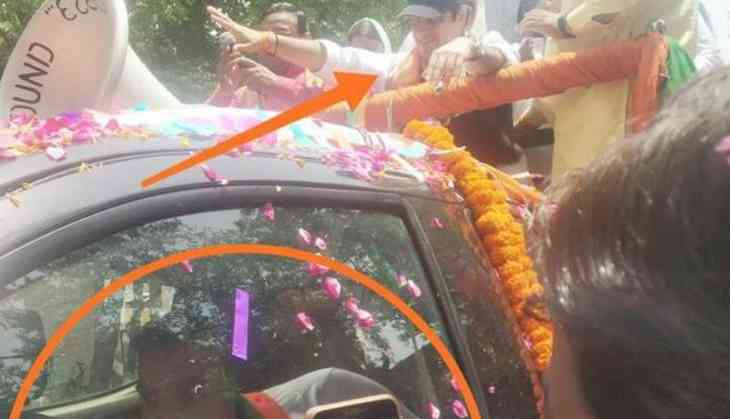 As the war of words between Aam Aadmi Party and BJP's East Delhi candidate Gautam Gambhir is on the peak, Delhi Deputy CM Manish Sisodiya has added another one in the row. Sharing a picture of Gambhir, Sisodia has alleged that he has been using a 'duplicate' to campaign for him as he has s problem with the Sun heat.
In a couple of tweet, the AAP leader shared the pictures and alleged that the doppelganger of the BJP candidate is a Congress leader named Gaurav Arora. He alleged that while Gambhir is seated inside the air-conditioned car, people are garlanding his impersonator.
"Have heard about a stunt double in movies, a runner in cricket, but have seen a duplicate in the campaign for the first time," Mr Sisodia tweeted in Hindi.
"This is the mahamilawat between the Congress and the BJP. Gautam Gambhir is sitting in an air-conditioned car. He has a problem with the heat. In his place, a duplicate wearing a cap is standing. Workers are garlanding the duplicate Gambhir. And this duplicate is a Congress leader in reality," he added.
गौतम गंभीर का डुप्लीकेट गौरव अरोड़ा है, जो कि कांग्रेस का 2017 MCD चुनाव का वार्ड 96N से उम्मीदवार था

तो सवाल ये है कि कांग्रेस और अजय माकन बीजेपी की क्यों मदद करना चाहते है ? क्या डील हुई है? pic.twitter.com/wzbz3cuKmn

— Durgesh Pathak (@ipathak25) May 10, 2019
The development cames between Bhartiya Janata Paraty and Aam Aadmi Party's ongoing tussle over the controversial pamphlet against AAP candidate Atishi field against Gambhir. The East Delhi constituency is turning out to be the most hard-fought seat in Delhi.
While reading out the pamphlet, Atishi broke down and alleged that lakhs of pamphlets were circulated by Gautam Gambhir. Denying the accusation, Gambhir said he would quit politics if the charge is proven and has sent a defamation notice through Union Finance Minister Arun Jaitley's daughter Sonali Jaitley to Kejriwal, Sisodia and Atishi on Friday.
Also read: Rahul Gandhi on Sam Pitroda's remark: Comments on 1984 tragedy 'completely out of line'