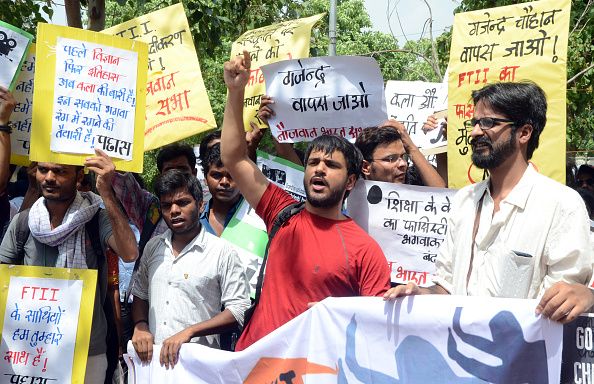 The prolonged confrontation between the striking FTII students and the government is set to continue with the former deciding to continue their protests after being unequivocally told there will be no talks unless they withdraw the stir.
As the strike by the students entered the 41st day on 23 July, the Film and Television Institute of India(FTII) Students' Association (FSA) announced that they will stage a protest demonstration along with "like-minded people" in New Delhi on August 3 coinciding with the Monsoon Session of Parliament.
The students, who are demanding that the appointment of actor and BJP member Gajendra Chauhan as Chairman of FTII Governing Council be revoked, said that the message they got from the Institute authorities was that there will be no rethink on the government's decision.
Through the demonstration, the students hope to draw the attention of MPs from various political parties towards the Government's "insensitive" approach to their demands and seek their intervention.Briefing the media about their interaction with the new Director of FTII Prashant Pathrabe, representatives of the FSA said the message from the Ministry conveyed to them through him was that "there will be no talks till the stir is withdrawn and also no rethink on Chauhan's appointment".
The message from the I&B Ministry is that "there will be no revocation of Chauhan's appointment or reconstitution of the FTII Society (the main demands of the agitating students).Also, the Ministry will not have any dialogue with the students unless and until they go back to classes," they said.Pathrabe also confirmed the Ministry's stand on the ongoing agitation, saying there would be no response to the communications sent by the students, requesting for a dialogue, unless they withdrew the strike.
FSA spokesman Vikas Urs said, "The Government has shown complete disdain by not engaging in a meaningful dialogue with the students over their demands.""We have written letters to many MPs cutting across party lines seeking their support and intervention during the current session of Parliament. We hope they will take up the issue (in the House)."The students, too, will be in Delhi on August 3 to stage a protest along with like-minded organisations and people," he added.