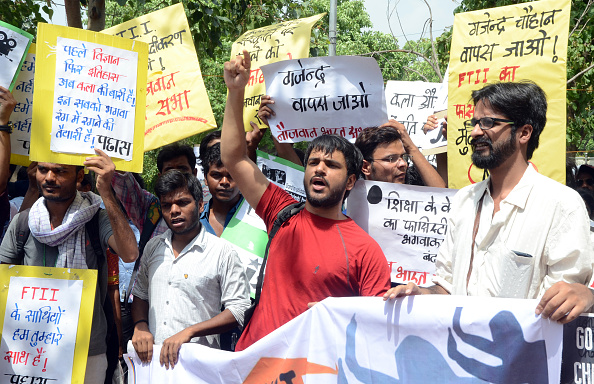 As FTII students continue to protest the appointment of Gajendra Chauhan as the institute's chairperson, the Information and Broadcasting (I&B) Ministry has decided to appoint a new director.
The current director, D K Narain, will be replaced by another Indian Information Service (IIS) officer. Two days ago, Narain threatened the protesting students with rustication, warning them to return to classes or face the consequences. His term will end on 18 July.
An Economic Times report suggests that the I&B Ministry has been unhappy with the way Narain handled the protest issue.
Narain will be temporarily replaced by another IIS officer, Prashant Prathabe. According to Outlook, Prathabe received the Ministry's order today.
1. A 1992 batch officer of the IIS, Prathabe has worked in Doordarshan News and AIR News in Mumbai.
2. He is currently the director of PIB unit in Pune, where he will continue to work in spite of his additional FTII charge.
3. Prathabe is a former director of the National Film Archive of India.
4. He holds an MBA from IIM.
Given the current turmoil on FTII campus and the unceremonious exit of his predecessor, Prathabe has his task cut out. FTII students are still demanding the removal of Gajendra Chauhan as the chairperson of FTII, as well as four other BJP-leaning members of the FTIII society.