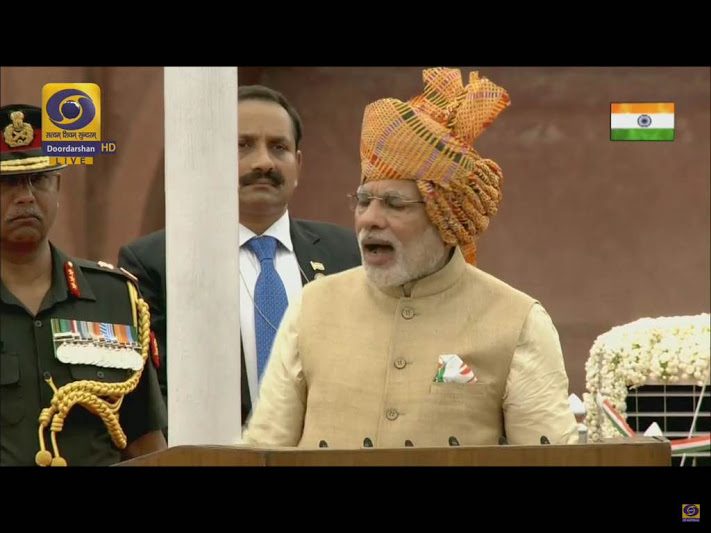 Prime Minister Narendra Modi touched upon several issues in his independence day speech. There were some bright spots, but also some disappointments. However, much of his speech largely came across as a report card of his government's performance. Here are the major highlights.
1. OROP: We have accepted One Rank, One Pension in principle. It's been lingering for 25 years. It'll soon be a declaration.
2. Labour Reforms: We have subsumed 46 labour laws. Now, there will be just four.
3. Start up initiative: Can't we have young entrepreneurs and manufacturers in every block and town of this country? Let's begin the initiative of "Start up India, Stand up India". "125 lakh bank branches across India will give loans to budding entrepreneurs", the PM announced.
4. #GiveItUp: So far, 20 lakh people have given up their LPG subsidy so that the poor will benefit.
5. Transparency: Fresh and fair coal auctions have earned the exchequer Rs. 3 lakh crore. The auctions of radio waves have also filled the government coffers.
6.Financial inclusion: Rs. 20,000 crore in 17 crore bank accounts: Pradhan Mantri Jan Dhan Yojana is keeping its promise
7. Anti-corruption drive: Corruption is like a termite. We have filed 1800 cases against officers indulging in acts of corruption
8. Black-money: Rs. 6500 crore: This is the amount of undeclared income declared so far under compliance window of black money and foreign assets law. "We formed a SIT under the SC's guidance the day we took over," he said
9. Dignity of labour: Shrameva Jayate Yojana: It is our national duty to protect the dignity of labour
10. Swachh Bharat Abhiyan: Team India of 125 crore people have helped build 4.25 lakh toilets. On Mahatma Gandhi's 150th birthday in 2019, we will gift him a Clean India.
11. Electricity in villages: We aim to electrify 18500 villages in 1000 days. It is a difficult task but we will achieve it
12. 'Jan Bhagidari' is the biggest asset of our democracy. When a team of 125 crore people decide to participate,
13. Communalism not to be tolerated: There is simplicity in every Indian and there is unity in every corner of India. This is the strength of India. Casteism or communalism will not be tolerated. If the unity of India is destroyed then the dreams of the people are also destroyed.
14. Get rid of interviews for lower level jobs: Addressing the inherent discrimination in the job market, Prime Minister urged employers to get rid of the system of interview to hire for lower level jobs. He questioned, "Why does one need to seek 'seefarish'(approach) when a job is sought". He added, "Merit should be the basis for hiring."