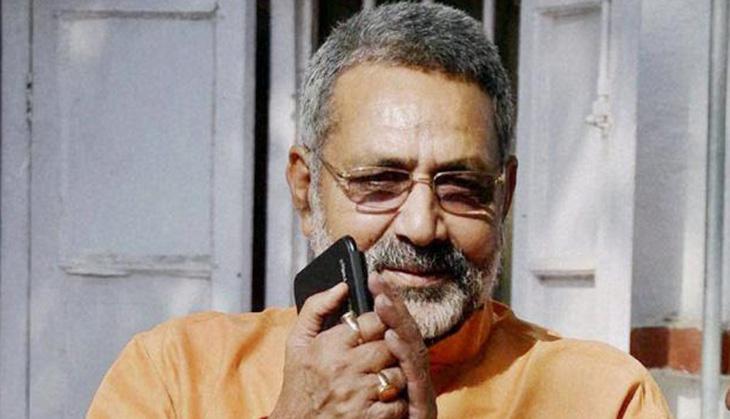 Union minister Giriraj Singh has caused embarrassment for the Prime Minister Narendra Modi-led government many a times in the past. On Wednesday, the Indian Express quoted Giriraj Singh as saying that if India did not change its population policy and enforce two-child norms for all religions then it would lead to a rise in the Muslim population - something he says will endanger daughters of Hindu families. He was addressing a cultural yatra in West Champaran when he made the controversial statement.
Well, the BJP leader is not a stranger to making such bizarre statements. Take a look:
Those criticising Narendra Modi should be "sent to Pakistan"
In the run-up to the 2014 Lok Sabha polls, Giriraj had said that those criticising Narendra Modi should be "sent to Pakistan". Three FIRs were lodged against him at Deogarh, Bokaro and Patna for his hate speeches. He later got bail in the case.
Racist remark on Sonia Gandhi
In April last year, he was caught on camera saying that had Rajiv Gandhi married a "Nigerian" woman instead of the "fair-skinned" Sonia Gandhi, the Congress party would not have accepted her as its leader.
This statement was slammed by the Congress, which asked the PM to dismiss him and apologise to the nation.
Pakistan phobia
During the Bihar Assembly elections last year, he remarked: "(Mohammed Ali) Jinnah's ghost has entered Nitish Kumar and Lalu Prasad and they want to make Bihar a Pakistan."
'Terrorists are from one community?'
During a seminar in May 2014, he demanded to know why "all terrorists belong to one community".
"I am not trying to blame any one particular community. Why are all so-called secular parties silent on this?" he added.